Manage posts
Posts are our content creation tool. You can use posts to email members and publish content to a members-only website hosted by Memberful. After creating your first post, you can manage and edit it them from your Memberful dashboard.
In this help doc:
View a post or draft
Once you've published a post, it will be listed on the Posts tab. Each listed post will include Title, Category, Published to, Interaction, and Last edited.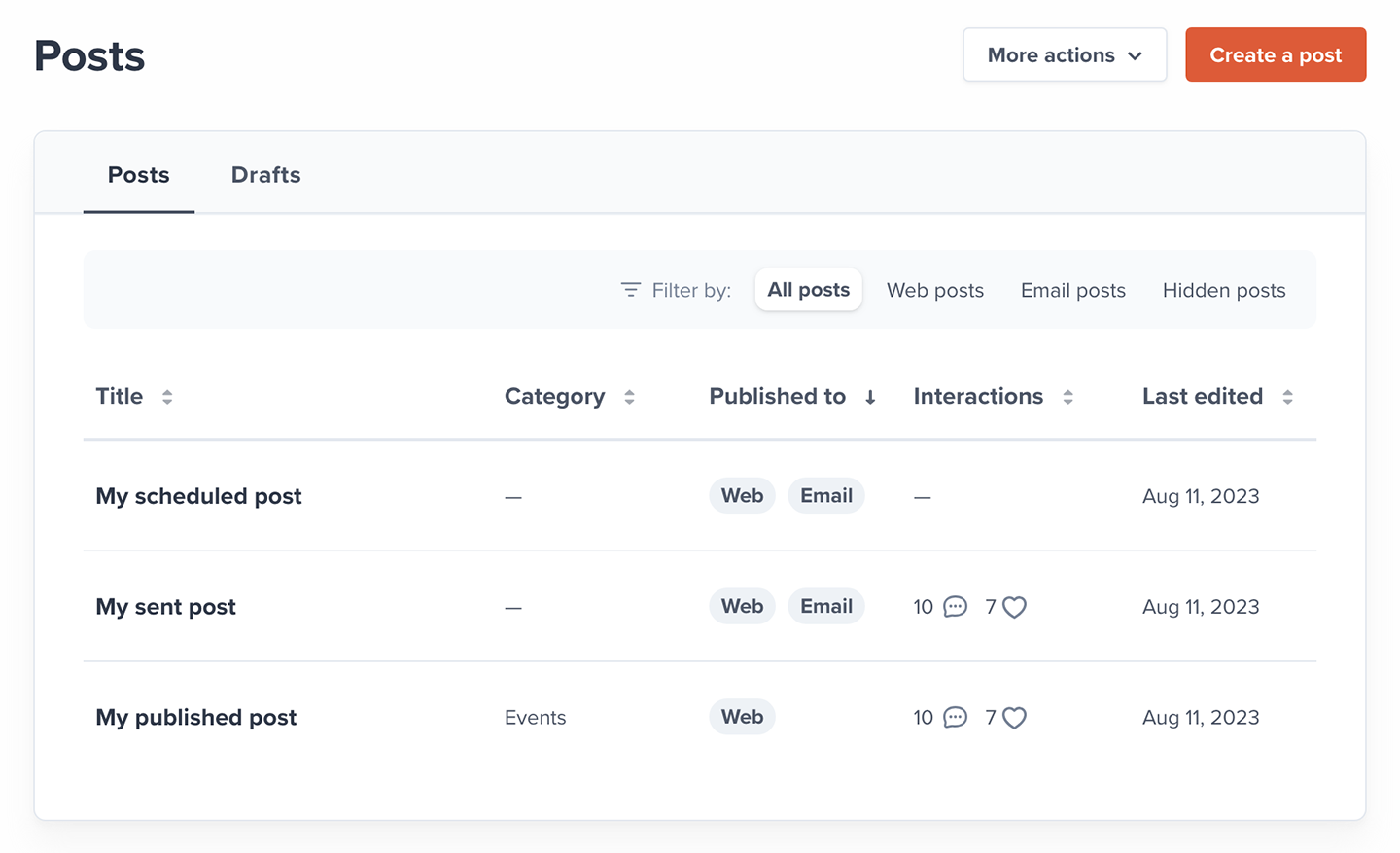 Edit a post
To edit a post, select a post from the list to access the content editor. Once you're happy with your edits, click Update to save your changes.
Edit a draft
To edit a draft, click the Drafts tab and click on the draft post title.

After your edits, you can click Settings to adjust the target audience, change category, enable or disable comments & likes, select your publishing options, send a test email, or delete the post.
After completing your edits, you can then save the draft or publish your post.
Please note: Editing a post that's already been emailed to members will only update the content on the hosted member site. Emailed content will not be updated.
Filter posts
You can filter published posts by All posts, Web posts, Email posts, or Hidden posts.

Sort posts or drafts
You can sort your published posts or drafts by Title, Category, Published to, Interactions, or Last edited.

Manage post categories
Categories allow you to easily organize your posts on your hosted member site. Members will be able to select from a post menu item dropdown to only view posts from that category.
To create or edit categories, navigate to Content → Posts → More actions → Manage post categories. You can delete, rename, or create a post category.
Manage comments and likes
Commenting and discussions are a proven method for building community, and Memberful allows your members to comment on posts you've published to the web, and to 'like' those posts as well. Learn more about managing post comments and likes.
Related help docs:
Can't find what you're looking for? We'd love to help! 💪
Send us a message through the orange chat bubble in the lower right corner of the page. You'll hear back within a few hours Monday - Friday. 😀