Install the Memberful WordPress plugin
The Memberful WordPress plugin makes it easy to integrate Memberful with your WordPress website and protect content—serverside—for members only.
Install Memberful on a self-hosted WordPress site or a site hosted with WordPress.com— Business plan or higher. If you aren't on their Business plan, and don't want to upgrade, you can use the WordPress.com guided transfer service to move your content over to a self-hosted WordPress website.
In this help doc:
Install the Memberful WordPress plugin
From your Memberful dashboard navigate to Settings → Connect with your website and click the link to activate the WordPress service.
Copy the WordPress registration key (ctrl/cmd + c).
Install and activate the plugin on your WordPress site. Paste your registration key (ctrl/cmd + v) into the field and click Connect to Memberful.
Once connected, your members will be signed into WordPress when they sign into Memberful. Their plans are also automatically synced, which makes it easy to protect WordPress content.
Review the plugin settings
Navigate to Settings → Memberful in your WordPress dashboard to customize the appearance and behavior of the Memberful plugin.
Keep all WordPress users logged in for 1 year.
Hide the WordPress admin toolbar from members.
Block Wordpress dashboard access from members.
Conditionally show Sign in, Sign out, and Account menu items based on members' signed-in status.
Update display names in WordPress when members change their full name in Memberful.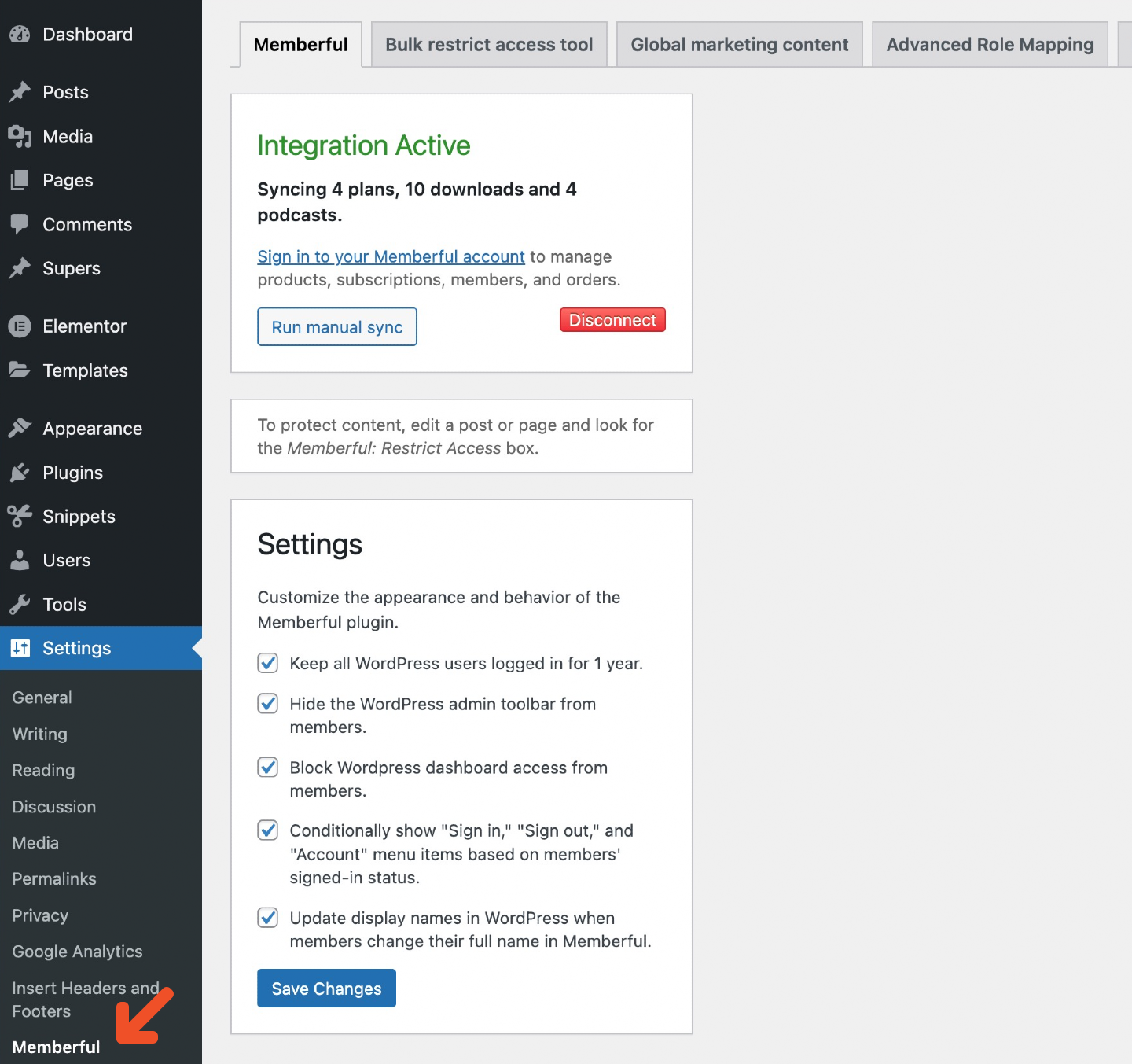 Related help docs:
Can't find what you're looking for? We'd love to help! 💪
Send us a message through the orange chat bubble in the lower right corner of the page. You'll hear back within a few hours Monday - Friday. 😀