Paid community guide
For many people, one of the most important elements of a membership offering is having a space to connect with like-minded people. To create a private community for your members, you can connect your Memberful account with the most popular community platforms like Discord and Discourse, and we'll make sure everything runs smoothly!
How to create a paid community
Decide where to host your community
One of the questions we receive all the time is centered on finding the best platform for building private communities. Memberful has two fully managed integrations with Discord and Discourse. This means we'll keep your paid members in sync and automatically remove their access from the communities once their subscription expires. Where should you host your private community? Here is some info to help you decide.
Discord
Discord is a dynamic chat room, and it's optimized for real-time interaction, whether voice, text, or video. It's harder to have detailed conversations but better for quick engagements.
| Pros👍 | Cons👎 |
| --- | --- |
| It's free for you to use. | Members must open a Discord account before they can join your server. Think of it like signing up for Facebook before you can join a group. |
| It's an easy to set up, out-of-the-box solution. | Not conducive to long-form, well-thoughtout discussions. |
| Audio and video chat are available. | The design is game-like, and playful, which may not suit all communities. |
| Low barrier for your members to get involved and build connections through live interactions. | |
Discourse
Discourse is more of a traditional discussion forum that is centered around threads. Discussions will be scoped to whatever is the thread's subject, and it's suited for asynchronous, well-thought-out communication.
| Pros👍 | Cons👎 |
| --- | --- |
| Members can use the same login details they used when they signed up through Memberful to log in to your community. | Set up and customizations require quite a bit of time and technical aptitude. |
| White-labelled solution that you can fully customize with your own design, colors, branding, etc. | Costs $100/month to host the forum with Discourse.org. There are self-hosting options, but this is not recommended for beginners. |
| Perfect for long-form communication and collaboration across different timezones. | |
Other options
bbPress
If you have a WordPress website, and are looking for a very basic discussion forum plugin to test the waters, check out our bbPress integration. It's not a sophisticated solution, but it's free and easy to set up.
Circle and Bettermode
Circle is an all-in-one community platform. Bettermode allows you to a build customized, online community space. Both Bettermode and Circle built their own integrations with Memberful, meaning they're not managed by us. You'll learn more about what this means later on in this guide.
Slack
Slack is a communication hub with workspaces and is separated into channels for topics or user groups. Like Discord, you can join multiple Slack workspaces. Memberful doesn't have an integration with Slack (yet) so if you're set on using Slack for your paid community you'll need to manually invite and remove members during the lifecycle of their membership.
Create your Plans in Memberful
After you open your Memberful account and upgrade to our Pro plan, you'll want to set up some membership plans that people can subscribe to.
Log in to the Memberful dashboard, navigate to the Plans tab, and click New Plan. Fill in the details and settings for your plan and click Create Plan. Learn more about creating membership plans.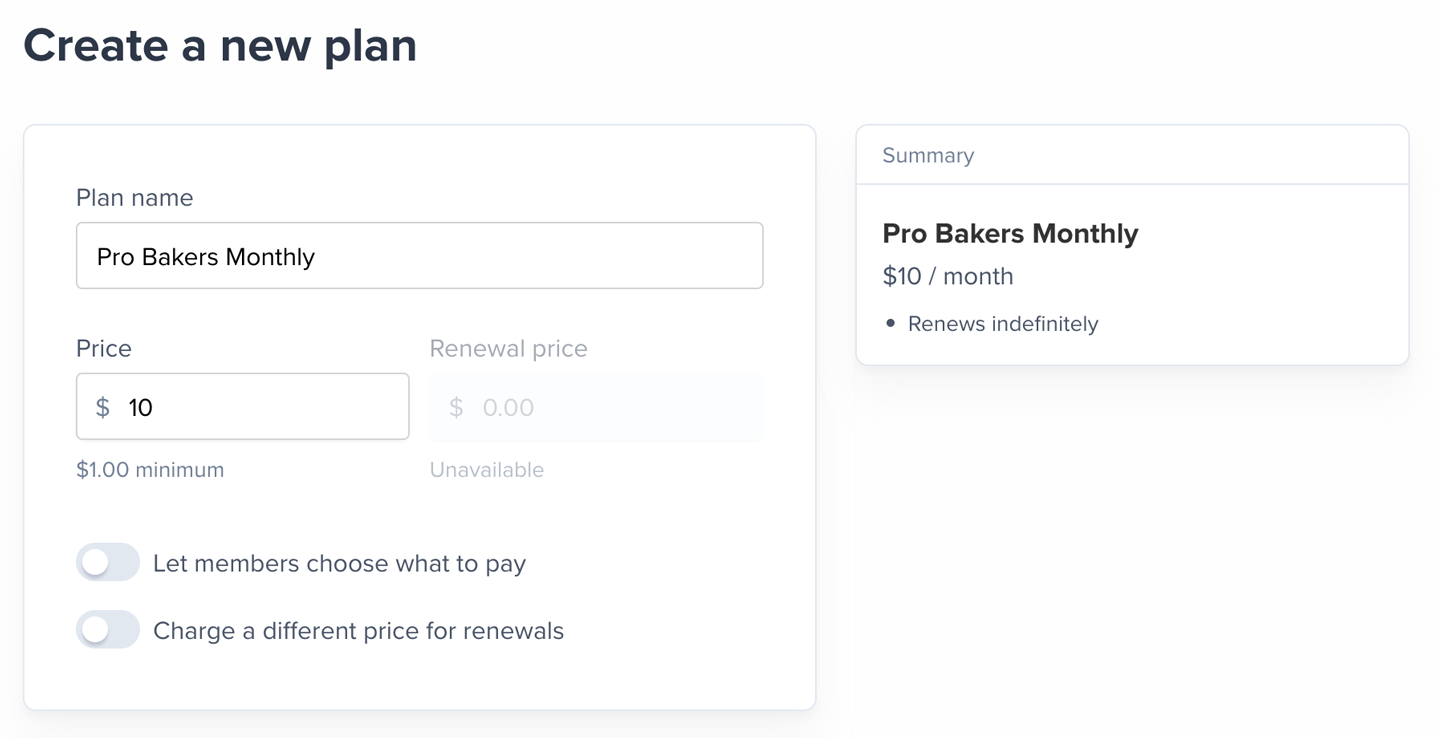 Thinking of selling multiple plans? Enable the upgrade / downgrade settings.
Integrate your community platform
Choose the setup instructions that are right for you.
Memberful-managed integrations:
Other options not managed by Memberful:
Keep in mind that Circle and Bettermode require the use of Zapier to add important actions that our managed integrations automate.
Add Memberful links to your website
Add a purchase link
Copy the purchase link from the Plan Settings page in your Memberful dashboard and paste it on your website, or use the button options provided by your website builder. Learn more about adding purchase links to your site.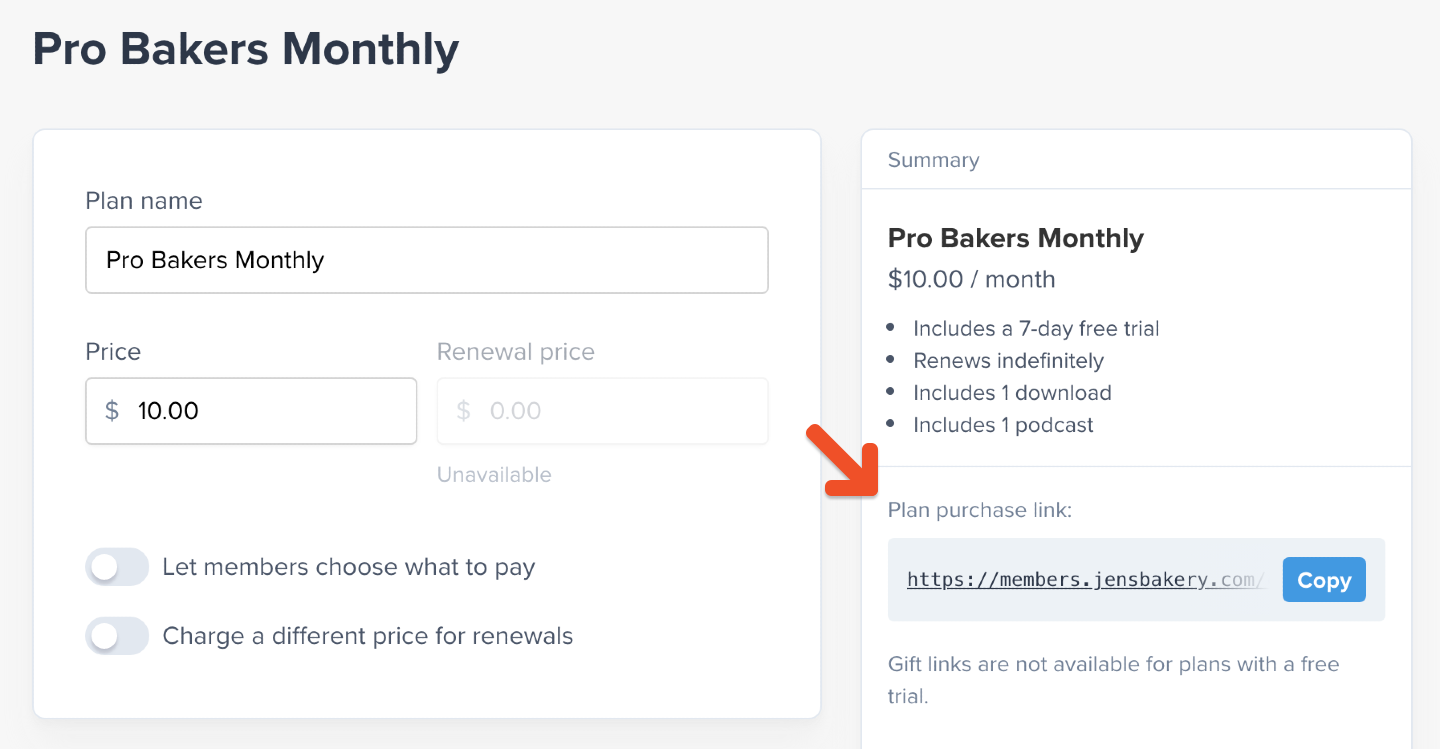 Add an account link
Give members an easy way to manage their personal information and subscriptions by sharing this link on your site and in your community:
https://YOURSITE.memberful.com/account
Replace YOURSITE with your actual Account URL sudomain, which can be found in your Memberful dashboard via Account → Account settings. You can add this link to a button on your website, in the footer of your newsletter, or anywhere else. Learn more about how members can manage their own accounts.
(Optional) Create a custom landing page
To sell memberships to your audience without a website, you can create a customized landing page hosted by Memberful by navigating to Customize → Landing page.
Use our powerful Visual Editor to add a title and description to the page, select which plans and downloads will appear on the page, customize their name and description, and add additional content like FAQs or testimonials. If you're on the Pro or Premium plan, your custom branding will be applied as well. Learn how to create a custom landing page.
Test the member experience
While your Memberful account is in test mode, you can use Stripe's test credit cards to complete example member purchases and recreate their onboarding experience. Make sure to log out of your WordPress admin dashboard (if you've integrated Memberful with WordPress) and sign up with a different email address than the one associated with your website and Memberful admin accounts, as using the same email address can produce unexpected errors.
Additionally, you can use our Visual Editor via the Customize tab to see which features are customizable, how they interact, and what they'll look like to your members across different views and devices.
Go live
When you're ready to start processing orders, choose your currency and connect to your Stripe account via Account → Activate account. We will automatically delete all your test orders and member accounts when you switch to live payments.
Nice work connecting to Stripe! 🚀
Now you're ready to start selling memberships to your audience. Here are a few ideas to make your launch a success:
Announce the membership on your social media pages.
Link to the membership sign-up page in your social media profiles and upload special banners for launch month.
Send a membership-specific email blast and add a link to the membership signup page in your email signature.
Host a livestream or post a video to announce the membership.
Can't find what you're looking for? We'd love to help! 💪
Send us a message through the orange chat bubble in the lower right corner of the page. You'll hear back within a few hours Monday - Friday. 😀