Monthly recurring revenue
Monthly recurring revenue (or MRR) is the single most important metric for a membership business. It answers the question, How much money can I expect to make?
In this help doc:
What is MRR?
Monthly recurring revenue, often abbreviated as MRR, is one of the most significant indicators when it comes to the health of your membership business. MRR is all your recurring revenue from member payments normalized into a monthly amount.
MRR is a crucial metric when it comes to running a business on renewable subscriptions because once you acquire a new subscriber, you can rely on recurring revenue and worry less about one-off sales. Plus, it allows you to forecast next month's revenue making it possible to make informed sales and marketing decisions that impact the trajectory of your business's growth.
How is MRR calculated?
Here's how we calculate MRR:
When a member makes a payment
  If it's for a recurring plan
  The value of the subscription is added to MRR

We count subscriptions to recurring plans starting when the member pays for the first full term (after any trial — free or paid). The value of the subscription is the renewal price, minus any recurring discount, normalized to a month.
So for a $10/mo subscription, it's $10, for a $100/yr subscription, it's $8.33. For a $10 subscription with a $5 forever coupon, it's $5.
We calculate the metrics for the day before at midnight UTC. Today's metrics will only be available at midnight UTC.
What are the activities that impact my MRR?
The activities that impact your MRR are separated into the following segments:
Starting: Recurring payments active at the start of the month
New members: Increase from members who started recurring payments for the first time

Gifts aren't counted as recurring payments, but if a gift recipient renews the subscription after the gift expires, it becomes a recurring payment.

Reactivations: Increase from members who resumed recurring payments
Upgrades: Increase from members who increased their recurring payments

Increases can happen by changing plans, adding group seats, ending coupons, or increasing a "choose what you pay" (CWYP) contribution.

Downgrades: Decrease from members who reduced their recurring payments

Decreases can happen by removing group seats, adding a coupon, or decreasing a CWYP contribution.
One-time coupons don't have an impact because they don't change the renewal value.

Cancellations: Decrease from members who ended recurring payments by canceling their membership
Failed payments: Decrease from members whose recurring payments couldn't be collected within 30 days of a failed charge
How do I learn more about changes to my MRR?
Navigate to Analytics → Metrics → MRR in your Memberful dashboard.
You'll see the big trends in your business as well as the activities that make up the top-line figures so you can answer questions like, "Is money coming from brand new customers or current customers?" or "How much of this decline is from members canceling vs. failed payments?"
The MRR graph will show data across previous months (including the current, partially complete month), defaulting to the last 12 months. You can also show the last 3 months or last 6 months, and advance or rewind the current view of months.
The chart visually represents all of the contributing factors that either add or take away from your MRR within a given month. The overlayed line on the chart shows you the total (i.e. net MRR) after all factors have been accounted for.
Hover over any column in the chart to see the segments (and amounts) that make up each month.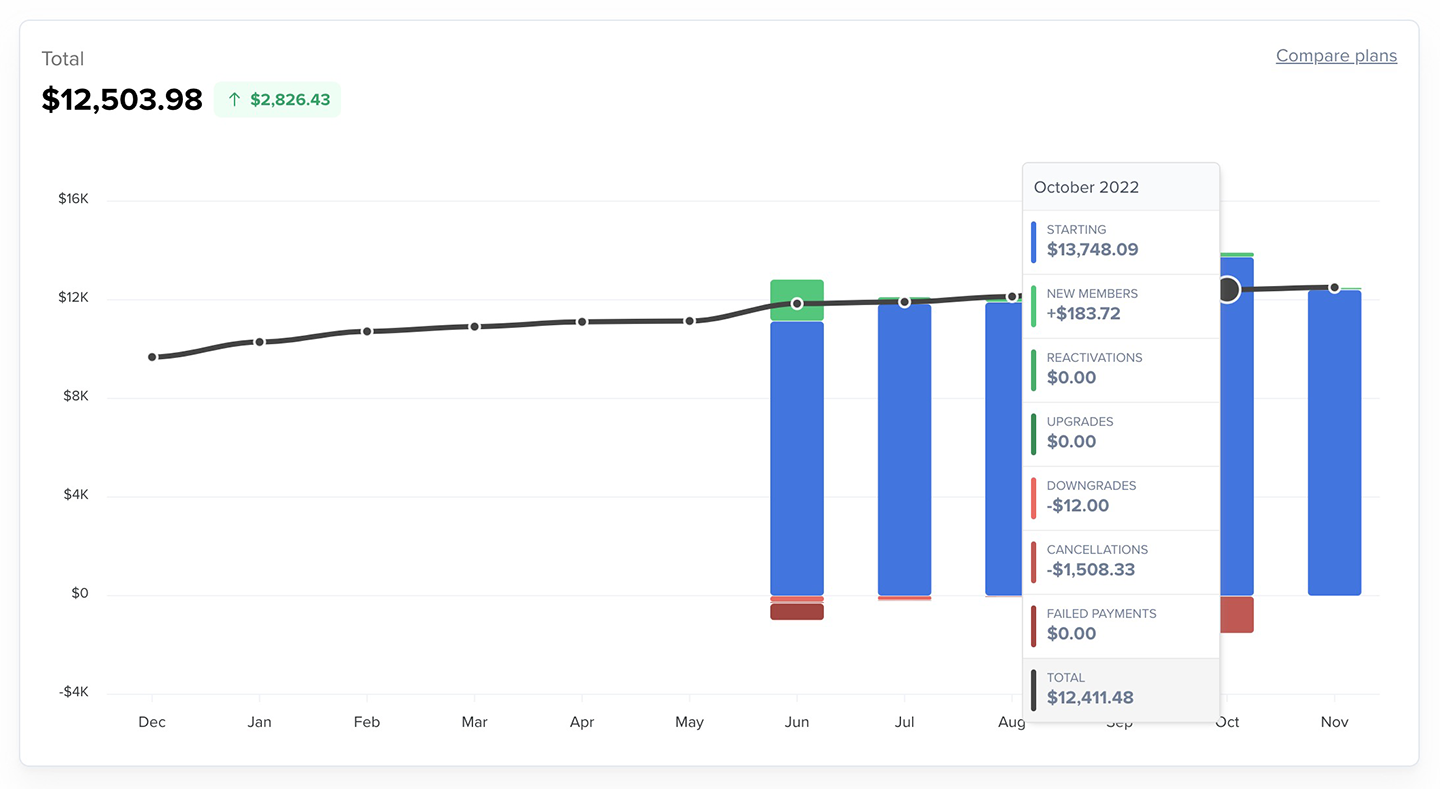 Underneath the graph, we display the individual data segments by calendar month as well as the total recurring payments active at the end of the month, total number of paying members (i.e. total # of members with recurring payments active at the end of the month), and the average revenue per member (ARPM).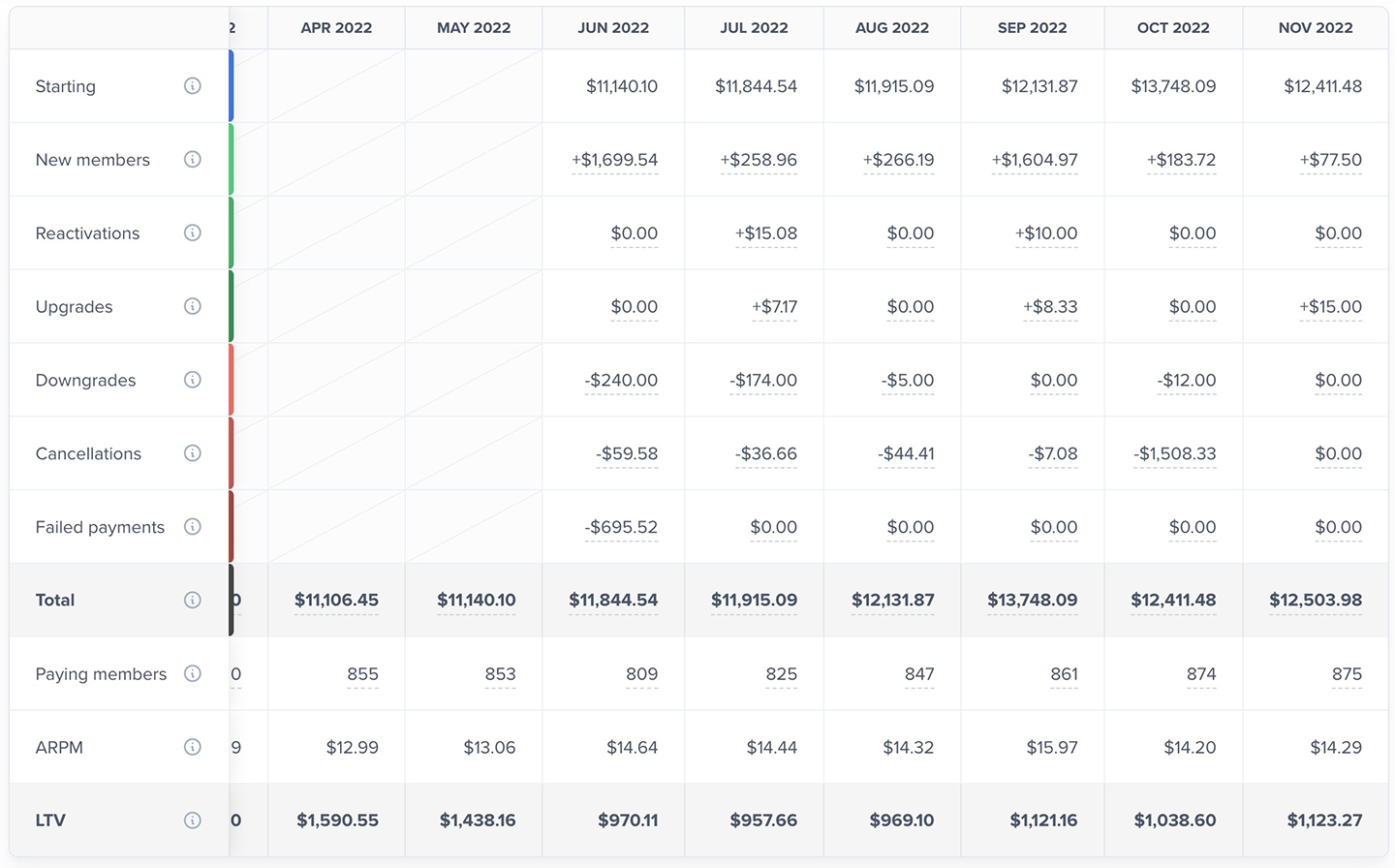 Click any value on the table (with the exception of the Total cells) to see the data for a specific calendar month, charted by day. You can also export the list.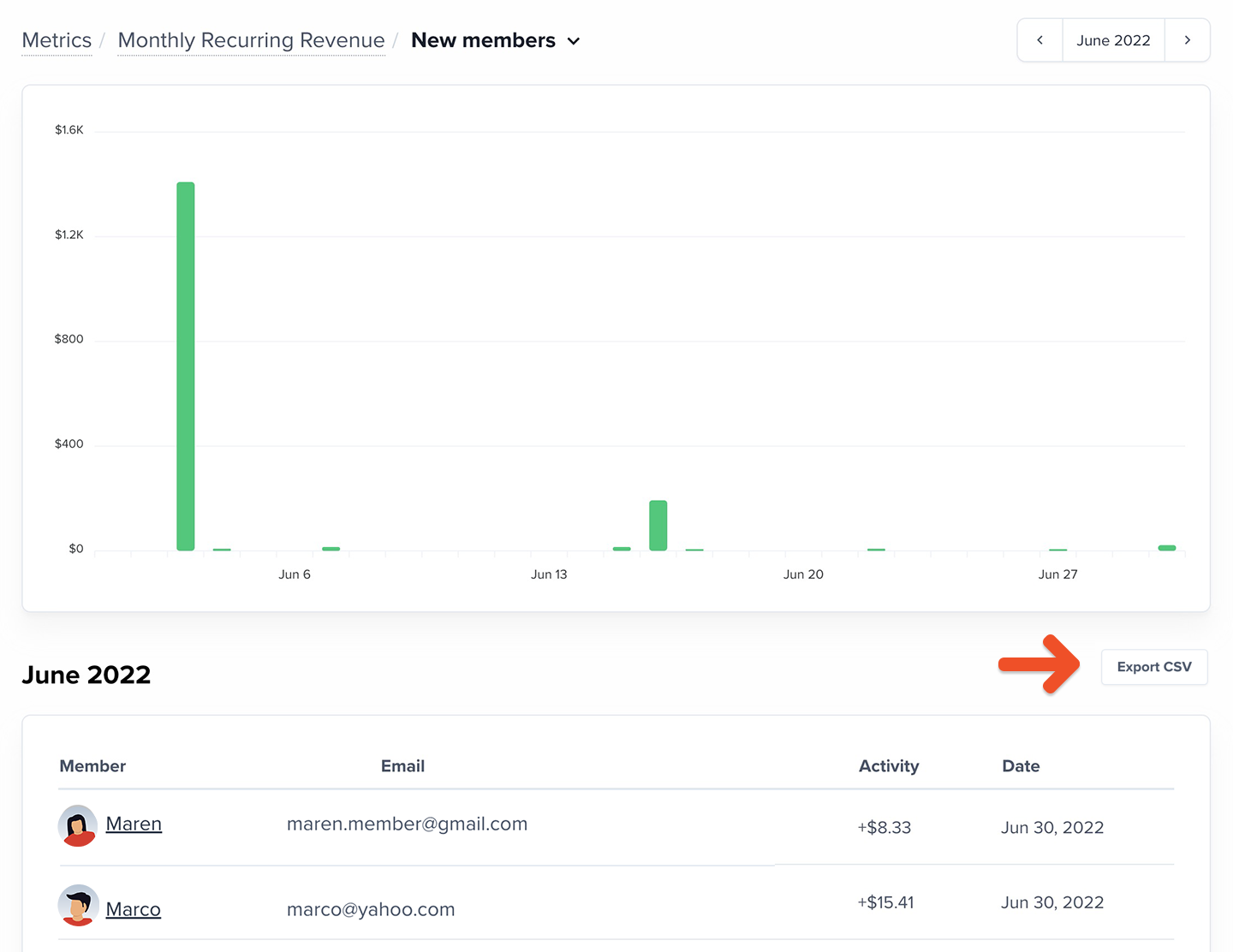 You can also choose another segment from the dropdown menu or switch to a different month.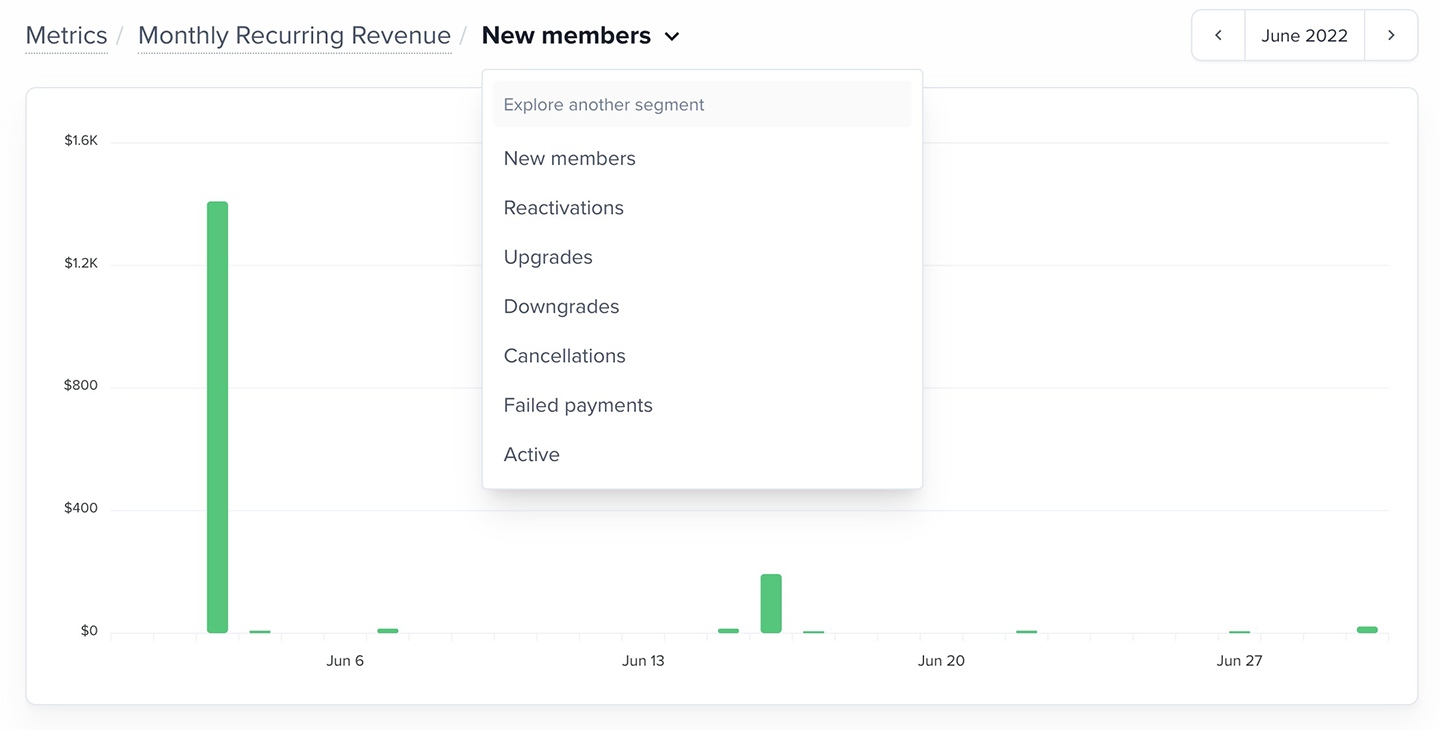 We also show you liftime value (LTV)
This metric shows you what your customer is "worth" to your business while also informing you how much you can reasonably spend on acquiring customers. We calculate LTV by dividing the ARPM by the Trailing 12-month Average Member Churn Rate.

How should I use this metric?
Data has no real value unless you do something with it. Metrics are outputs, not inputs, and impacting your membership business's controllable inputs is what will help you not only improve your metrics but also grow. Here are a few ways to increase your MRR:
Phase out your free plan
For example, Mention got rid of their free plan to change the perceived value of their offering and added an enterprise-level plan that fit the needs of larger companies. Once implemented, these strategies resulted in an average 296% increase in revenue per account.
Introduce a quarterly or annual plan
Members who renew most frequently (i.e. monthly members) are always the closest to churn. Diversifying away from only offering monthly plans naturally reduces the net impact to MRR from a churn event. Having a member base that's allocated across multiple plans positions the membership to absorb churn more easily at any point in time.
Increase your prices
When memberships see at least 70% of first-time subscribers purchasing an annual plan over a period of at least four months, this is highly indicative of the membership being undervalued. In such cases, a price increase of 10%-20% will likely be well-received by members. Learn more about navigating price increases.
Related help docs:
Can't find what you're looking for? We'd love to help! 💪
Send us a message through the orange chat bubble in the lower right corner of the page. You'll hear back within a few hours Monday - Friday. 😀