Paying members
Recurring payments are the lifeblood of any membership business. The paying members metric lets you explore the total amount of recurring members in your account and the changes that impact that total.
In this help doc:
Who is considered a paying member?
A paying member is a member who has a recurring payment that's active at the end of the month.
The following are not considered paying members until their subscription renews and their payment is realized:
Members with an all-access pass
Members with a 100% coupon
Members on a free trial
Members whose subscriptions were created by an admin without charging
Members with gifted subscriptions
The following are never considered paying members:
Members who purchase one-time plans
Members subscribed to plans with a fixed number of payments
How is the paying members metric calculated?
Here's how we calculate paying members:
If a member has at least one recurring subscription 
at the end of the month, 
they count as 1 paying member in the total

We calculate the metrics for the day before at midnight UTC. Today's metrics will only be available at midnight UTC.
What are the activities that impact the paying members metric?
The activities that impact your paying members count are separated into the following segments:
New: Members who started recurring payments for the first time
Reactivations: Members who resumed recurring payments on a previously canceled subscription
Upgrades: Members who increased their recurring payments
Downgrades: Members who decreased their recurring payments
Cancellations: Members who ended recurring payments by canceling their membership
Failed payments: Members whose recurring payments couldn't be collected within 30 days
How do I learn more about my paying members?
Navigate to Analytics → Metrics → Paying Members in your Memberful dashboard.
You'll see the big trends in your business as well as the activities that make up the top-line figures so you can answer questions like, "What was the main reason I lost members this month?" or "How many members did I gain in April vs. May after raising my prices?"
The paying member graph will show data across previous months (including the current, partially complete month), defaulting to the last 12 months. You can also show the last 3 months or the last 6 months, and advance or rewind the current view of months.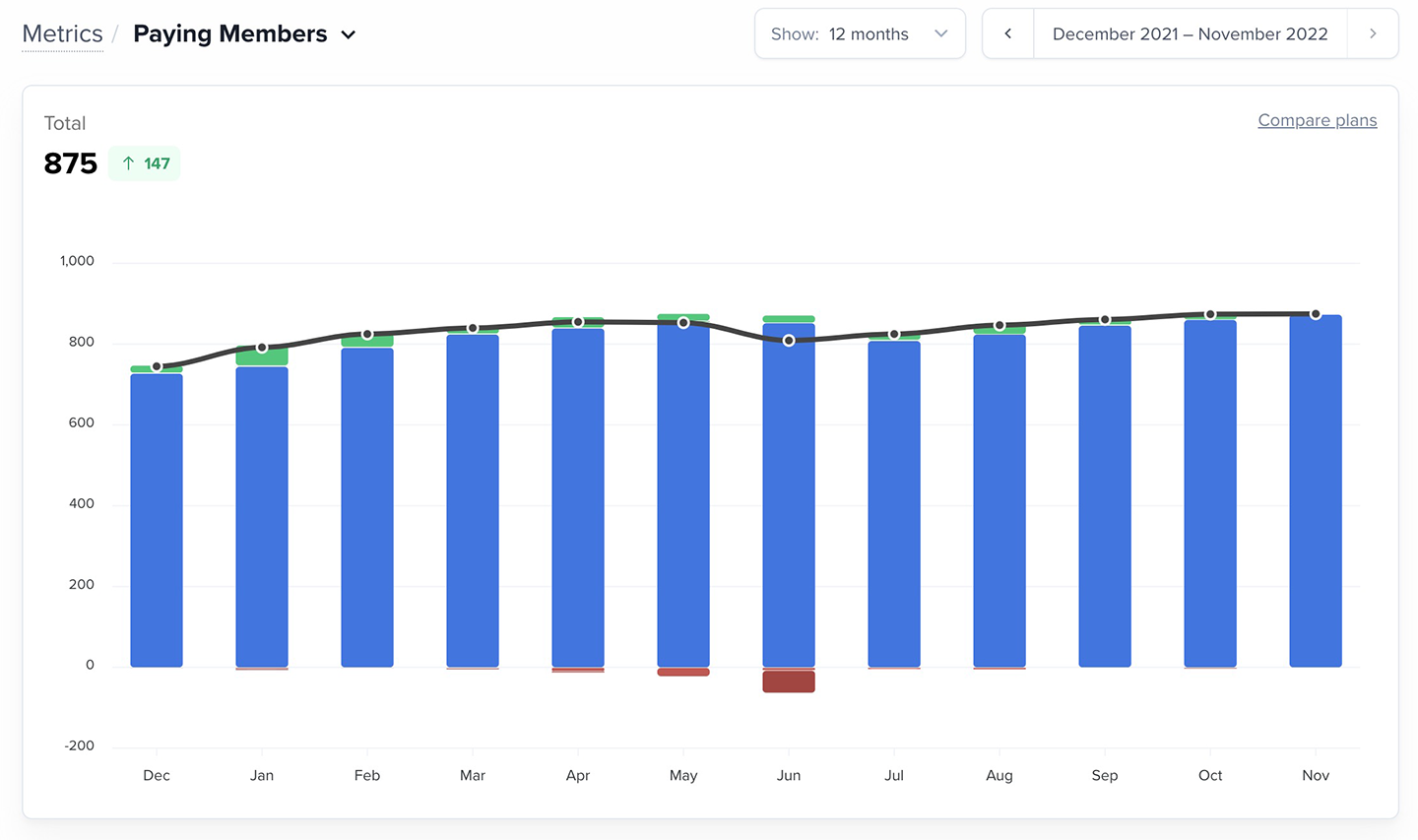 Hover over any column in the chart to see the starting member count, as well as segments (and amounts) that make up each month, followed by the current total for paying members.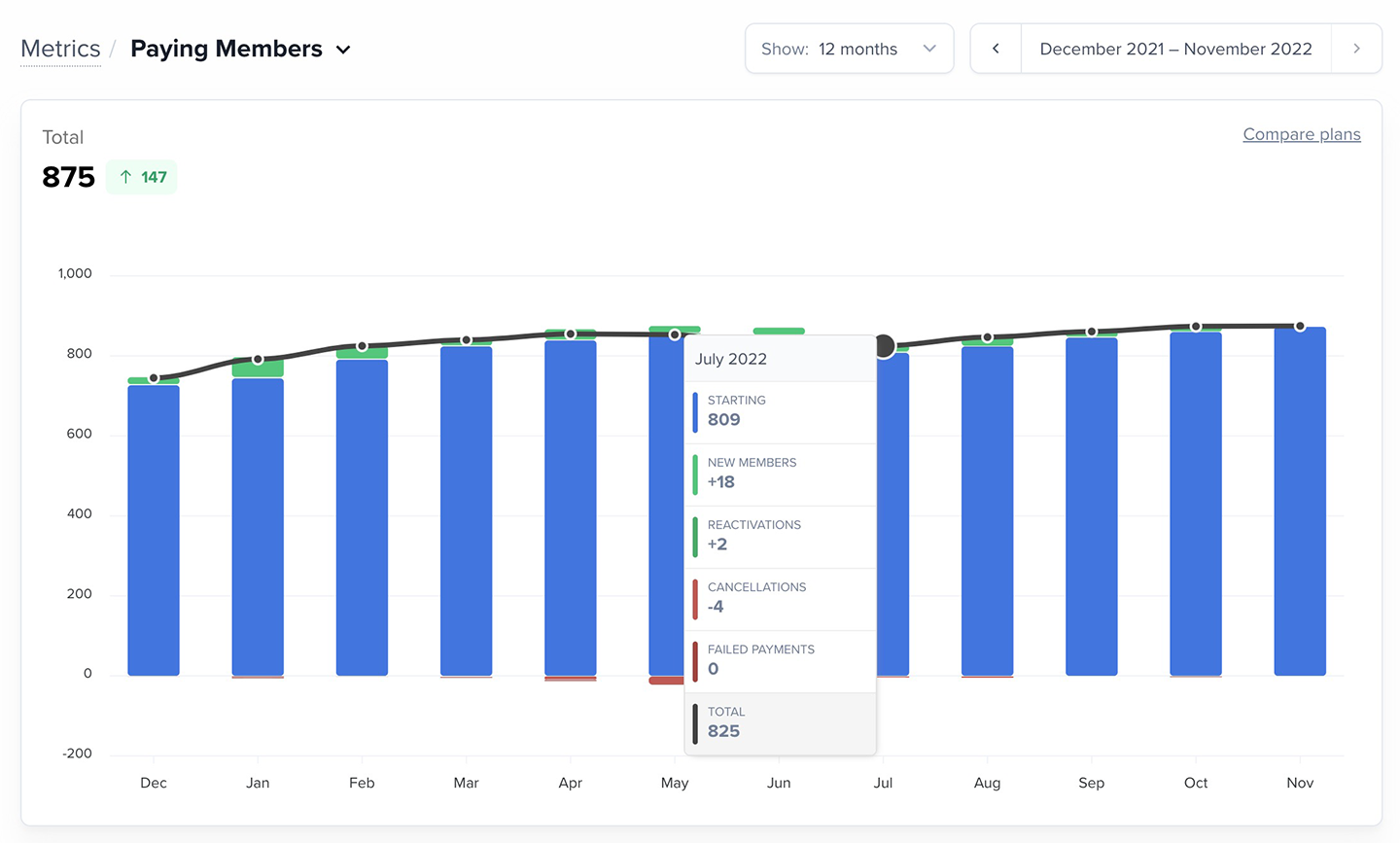 Want to compare paying members across plans? Learn More.
Underneath the graph, we display the individual data segments by calendar month.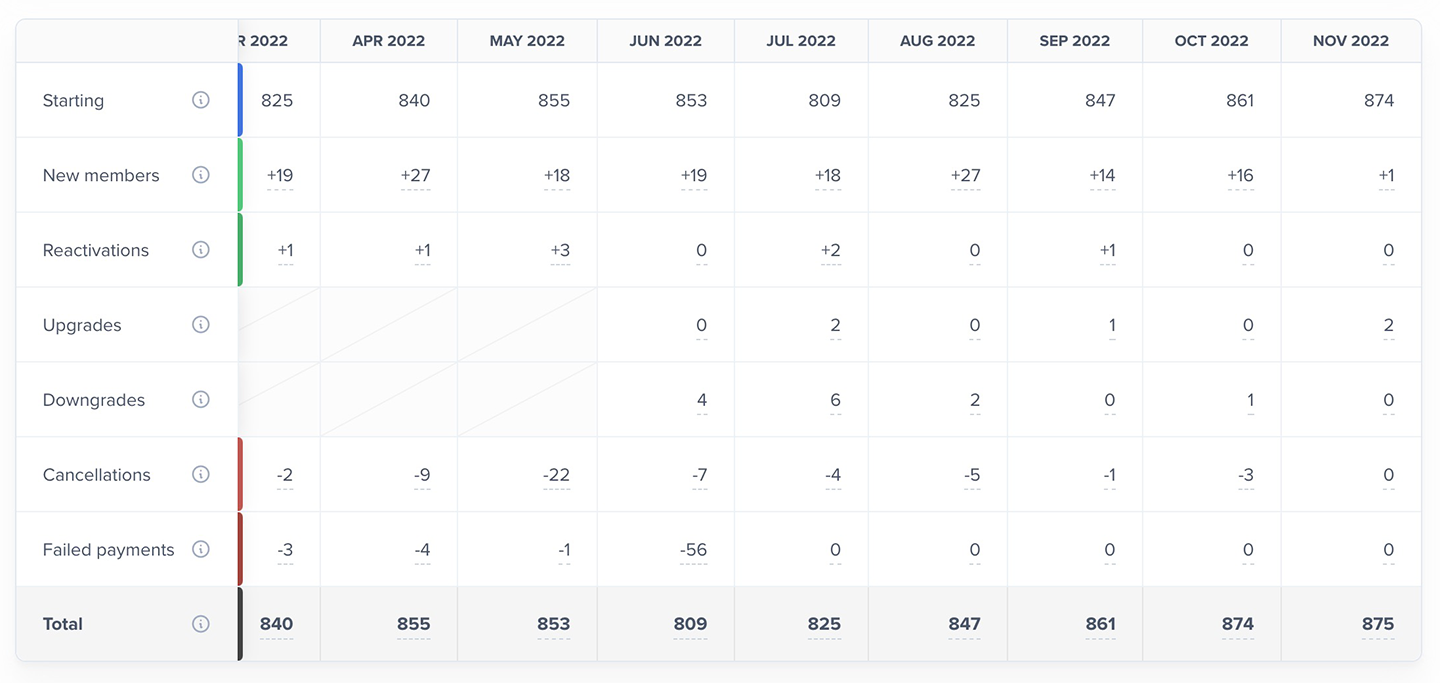 Click any value on the table (with the exception of the Total cells) to see the data for a specific calendar month, charted by day. You can also export the list.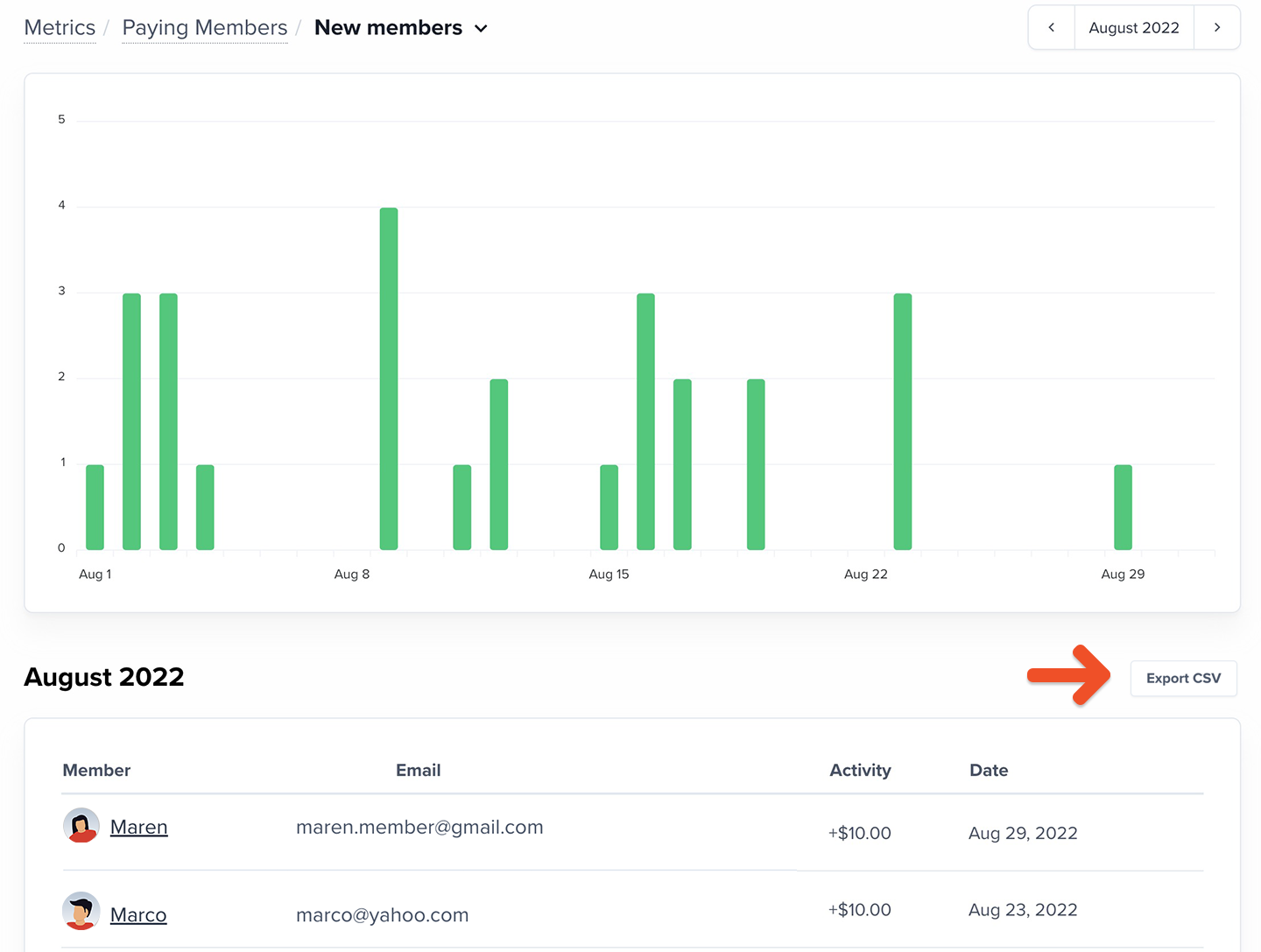 You can also choose another segment from the dropdown menu or switch to a different month.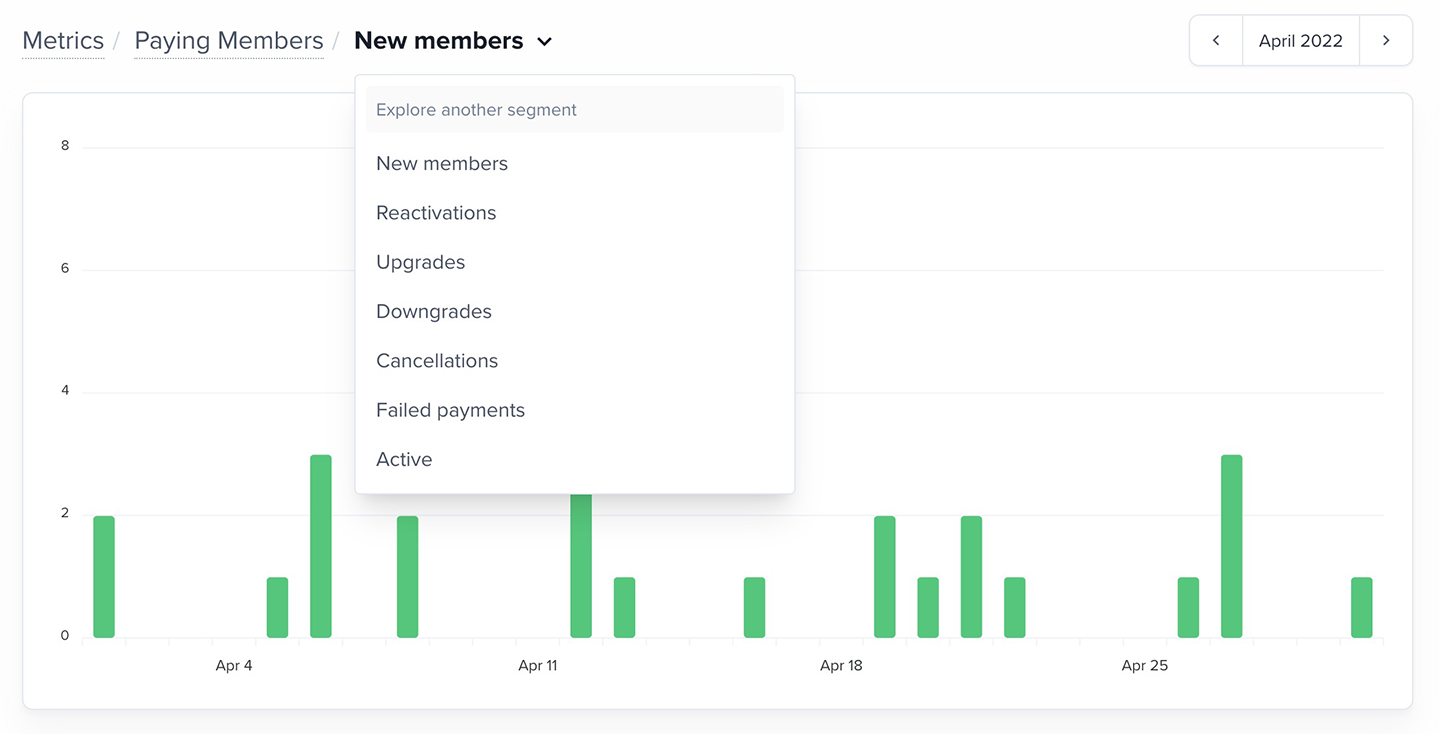 How should I use this metric?
Data has no real value unless you do something with it. Metrics are outputs, not inputs, and impacting your membership business's controllable inputs is what will help you not only improve your metrics but also grow.
What can you learn from reactivations?
Let's say you'd like to send a special offer to prior members in an effort to win them back. Reactivations can help you measure the success of such efforts. Understanding the portion of members who reactivate their memberships over time will help you predict your future member activity and income with confidence.
What can you learn from upgrades?
If your membership strategy involves maximizing the lifetime value of members through upgraded plan offerings, this metric is vital to measuring the success of that strategy.
What can you learn from downgrades?
Monitoring your downgrade activity is essential for protecting your recurring revenue. You'll want the number of downgrades to remain as small as possible when operating your membership. Sudden spikes in downgrades can indicate there are areas within the membership that need to be addressed such as pricing and overall member satisfaction.
What can you learn from cancellations?
Monitoring your cancellations can help you identify potential triggers that cause members to cancel. Your membership will "settle into" a normalized rate over time but monitoring this metric for increases or abrupt changes will help you adjust when needed.
What can you learn from failed payments?
Knowing the number of members who become deactivated due to failed payments allows you to better understand your overall churn. Churning from the membership due to failed payments can be considered "involuntary churn", meaning that members didn't take explicit action to cancel the membership. Failed payments are a normal part of any membership.
Staying proactive and keeping your members engaged will help ensure they'll take action to update their payment information when needed.
Related help docs:
Can't find what you're looking for? We'd love to help! 💪
Send us a message through the orange chat bubble in the lower right corner of the page. You'll hear back within a few hours Monday - Friday. 😀