The value of sharing, not selling, by "the pre-eminent one-stop shop for women travelers"
An El Camino Travel event in Greece © Erin Springer
CEO Katalina Mayorga and her team at El Camino Travel (ECT) had been successfully growing their travel community for a number of years when the global covid pandemic struck. The benefits of their forum were more wide-reaching than they had expected; it was becoming an online space where even travel professionals were coming to engage with their peers.
"It was really important to have a way for our community to connect with each other," Katalina begins. "Some people will say 'my community' and mean their Instagram following; maybe it's a two-way conversation between the creator and their audience, but it's not a conversation between one community member and another. We really wanted facilitate members talking to each other because that's community-building at its core, it's how people feel connected to each other."
Not only travel fans were joining the ECT community. Industry experts were becoming members and actively providing information to others, creating a welcoming and knowledgeable platform. Katalina and the ECT team wanted to formalize these experts' contributions to show their gratitude for all the free information that was being shared.
"We wanted to get those experts, who understand our values and are basically the El Caminos of those countries, more involved in our community," Katalina starts. "We created badges for them and gave them profile photos with a blue circle around their photo and a yellow check mark, as verification to show they are destination experts. When you post a question about Greece and Christina responds, you know this is an expert who spent a decade or more in the country."
ECT in Essauira, Morocco © Valeria Duque
Community members were asking questions, and genuine, qualified, travel professionals were engaging. The online community was serving its purpose perfectly — perhaps even better than had been expected. Then, the miracle happened: lockdowns were lifted. The online ECT community had begun now moving back to the the offline world, and it was time for the company to shift from survival mode back to building for the future. "During the pandemic we were fire-tested, and we proved resilient," Katalina explains.
The pandemic and its resulting global slowing allowed the ECT team to think bigger about how to best serve its community of women travelers. "We knew we were doing something special, but we never had the time or space to think bigger about the brand we were building. We realized how special it is, as a travel company in general," she continues. "As the world started to open up, we realized there was a lot more we could be doing with membership in real life. We could serve the community in a way that reflected what they needed from us, as they started to venture out in the world again."
Big ambition
How is El Camino Travel going to provide its members with what they need, now that travel is just about back to normal? "The big vision is to be the pre-eminent one-stop shop for women travelers to dream, plan, book, experience and share their travel," Katalina asserts.
Poolside during an ECT meet-up in Greece © Natasha Lee
ECT started off with around 100 members in August 2020 and is now at around 700, and the ECT team has grown to six and a half full time employees. In the US, millennial women are the fastest-growing segment within the travel industry, but Katalina believes that none of the major operators are serving this segment. "For some of the bigger companies, no one's in the boardroom saying, 'Hey, women spend so much money but they still feel really unsafe while traveling. What can we do to better serve them?'" she adds.
Katalina recounts that, in a recent survey of 5000 female travelers, the number one thing wanted from travel companies by the majority (85%) of respondents, is simply to feel safe while traveling. "These women are not asking for bodyguards," says Katalina, "They just want to feel that they have the intel, resources and the connections to make informed decisions. That's what makes them feel empowered and feel safe. We're solving this right now with our small-group trips as they allow travelers to fully immerse themselves and not have to sacrifice the quality of their travel experience because of their gender."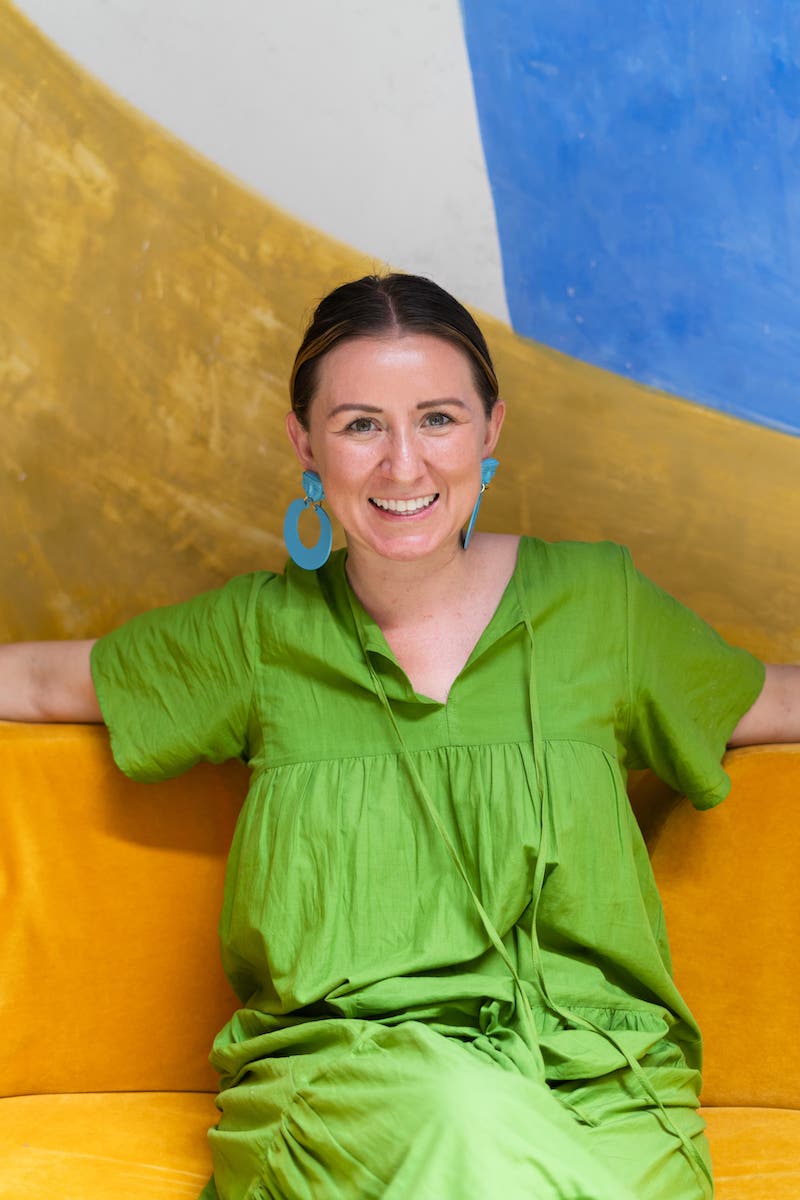 CEO Katalina Mayorga © Ali Zárate
Ultimately, Katalina wants El Camino Travel to become the most trusted resource for women travelers. "TripAdvisor and Google focus on quantity versus quality: there's a high volume of low-quality information out there and we want to be complete opposite of that," she continues. "It's about knowing there's a community behind me that I can lean on, in a way that I can't lean on any other community, when I go out to explore the world."
Travel concierge
Just how does being able to lean on a community manifest itself? Katalina tells me that, when someone posts a query in the ECT forum, the community manager jumps in "with that white glove concierge service" and shares all the links to threads that might already exist, and then up to five other community members will respond. "Rather than the 200 responses you would get in a free Facebook group, there'll be better recommendations that reflect our style of travel," she says. "People are paying for El Camino because they think, 'That's who I am as a traveler; they get me better than anyone else'. We're bringing these people together."
ECT at the market in Morocco © GoKateShoot
This begs the question: in order to maintain the quality, does ECT has maybe an upper limit of member numbers? "We get asked all the time, 'How are you going to keep the quality up?'" Katalina responds, adding "Tech is going to play a role in that, for sure. We've already begun tracking data and checking our options." She adds the team is looking into solutions so that people don't become inundated with bad quality information. The team already moderates the forum and selects certain questions to answer, and stops the responses after a certain number.
"At the moment, a benefit of membership is that you get a highly curated travel guide each month, put together by our destination experts, so maybe we'll put out more curated content, because people really trust us," she continues. "We want to make sure that we can handle more people and that we can still provide the content and the connections they're looking for, without like ever feeling like what happens when groups get bigger."
The El Camino Travel team
She notes that a lot of the ECT community members want to connect with each other, especially when they travel and a lot of them are remote working together at the moment. "You'll see messages like, 'Hey, who's in Mexico for the next few months? I'm remote working in Oaxaca!'" she explains. "We're looking into tech to make it easy for people to find each other when they're traveling to the same places around the same dates."
In addition to advances in tech, the big plan for ECT is to embrace the post-lockdown world and get selling trips again. The company restarted selling group-travel trips again in June 2021, and nowadays a huge focus of the company is selling those trips, selling membership — and bundling the two together with discounts to members.
Sharing, not selling
We conclude that, counterintuitively, the approach of not selling travel — but simply talking about it in the ECT forum — has ultimately helped some of ECT's travel experts to gain business. "The forum allows people to demonstrate thought leadership and expertise; many of the El Camino Travel community have actually acquired clients through their responses to questions," Kataliana explains.
Katalina soon realized their were on to a good thing and looked for ways to grow and formalize the destination expert roster. "We asked our current team, 'Who do you think should be an expert?' and they started recommending people," she continues. "I would interview them, tell them about the forum, I would get them excited. It's a new distribution channel for them, free of all the algorithms of Facebook and Instagram, and gives them a front-row seat to their ideal client."
Diving in the Red Sea © Valeria Duque
Naturally these experts saw clear advantages. "When you talk to potential travel clients, you have to show off your expertise, you have to show why would someone book a trip with you. The forum allows them to do that in a very organic, authentic way that doesn't feel salesy," she says.
"Travel professionals love talking about travel; we love sharing information. This gives us another opportunity to just be really helpful," Katalina muses. It's clear that simply being helpful is a great way to sell travel: since the industry has started to recover, the ECT team has been able to go a stage further than simply talking about travel. "Since lockdown lifted, we've started planning trips with our destination experts. We did trips to Morocco, to Guatemala, to Greece and Georgia. It's been pretty cool!" she smiles.
Subscribe for updates
Stay up to date on Memberful's latest product updates, insights, and teaching centered around growing your community.
Have an audience?
Customers like Mythical (28+ million subscribers) rely on Memberful to power their membership communities.
Get started for free