Podcasting, privacy and personal interaction: TWiT
Lisa and Leo Laporte are the husband-and-wife team behind TWiT ('This Week in Tech'). They've been married for seven years and have worked together for 15. I spoke to them about their podcasting empire and membership business.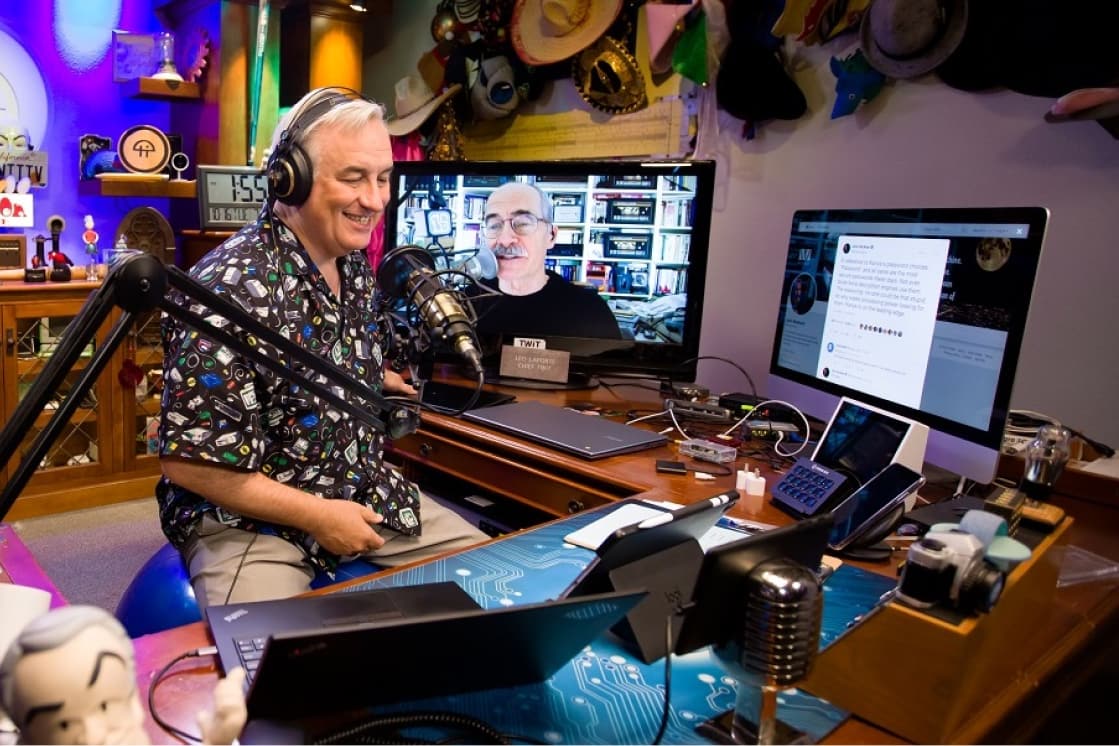 Image: Leo Laporte in the studio © TWiT.tv
'Podcasting? What's podcasting?!'
"This was always a logical extension of my life's mission," starts Leo Laporte, Chief TWiT and President. "I'm a technology fan and enthusiast and I enjoy talking to people." He explains that, in the early 90s, technology was becoming so important that he believed his mission was to help people understand how to use technology in their day-to-day lives. "Partly because it's a powerful tool, but also in a defensive way. You need to understand what's going on so that you can participate in it and prepare yourself for it," he continues.
"When I left TechTV, which is a cable channel that was my claim to fame from 1998 to 2004, I was casting around for a new way to continue that mission. I pivoted to radio with a call-in show." In the early 2000s, Leo started putting audio recordings on the company website, so people could download the show if they missed the live version.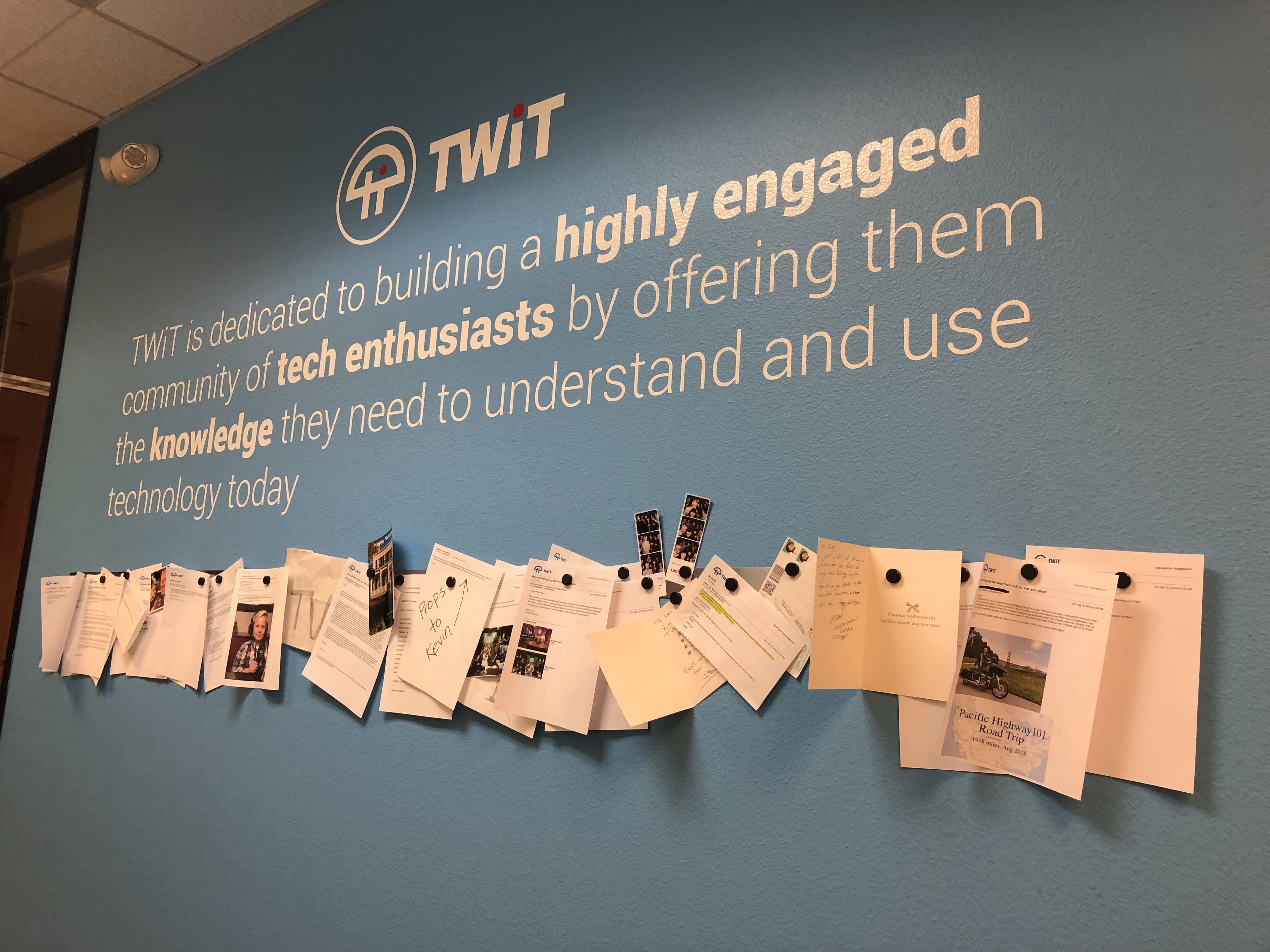 Image: The TWiT mission statement © TWiT.tv
"Between that time and the fall of 2004, something called podcasting was invented. I remember getting an email in September 2004, from a 14-year-old kid named Matt Bischoff, to whom I'm forever grateful! He said, 'When are you gonna do podcasts?' And I replied, 'What's that?'!" laughs Leo.
Matt explained the concept to Leo and because the audio was already online, Leo realized he could make an RSS feed, thus creating his first podcast from the radio show. This project didn't become TWiT until the following spring: "I got together with a bunch of people I'd worked with at TechTV, all of whom had gone on to bigger and better things, and we did a one-off show at [tech expo] Macworld Expo," he continues. Leo confesses he had been struggling to figure out how to get everyone together on the show because everybody was in a different location – that was until April 2005, when somebody called in to the show using Skype.
"I thought, 'Well, this sounds really good!' and thought we could do a podcast using Skype with all of our guests," recalls Leo. "We just did 20 minutes, with no intention of making anything out of it. But there were something like 20,000 downloads, and we thought, 'Maybe there's something here'." TWiT was coming to life, albeit under a different name: the first show of its kind was broadcast on April 17, 2005. "We originally called it the Revenge of the Screensavers, because that was the name of the TV show we were doing at the time. But I got a 'Cease and desist' from Comcast!" smiles Leo.
Leo asked his audience to come up with a name for the project: "They came up with This Week in Geek, which I really liked except for the word 'geek'. So I said, 'What about This Week in Tech or TWiT?' I liked the fact that we're twits. But it was clear what we were doing." TWiT was born.
Formalizing finances, ads, and membership
The TWiT team – of just Leo, his assistant, an editor, and office manager at this point – slowly added podcasts over the next couple of years. This was before Lisa arrived in 2007 and before TWiT had taken on a formal format. "My accountant said that if we didn't get our books in order, we would be going to jail!" continues Leo. "My accountant gave me two names for people who could help us and said, 'You've got to hire one of these people.' Lisa was the first one I interviewed; I never got to the second name because she was so good."
Lisa soon got TWiT's finances in order and Leo realized he would need a proper CFO. Lisa continues: "Leo asked me to recommend someone for the role – he thought I couldn't do it because, at that point, I had my own consulting business and the CFO title at three other companies." But Lisa surprised Leo with her response: "I had fallen in love with new media so I said I could take on the TWiT CFO role," she explains. Leo replied, 'You're hired!'"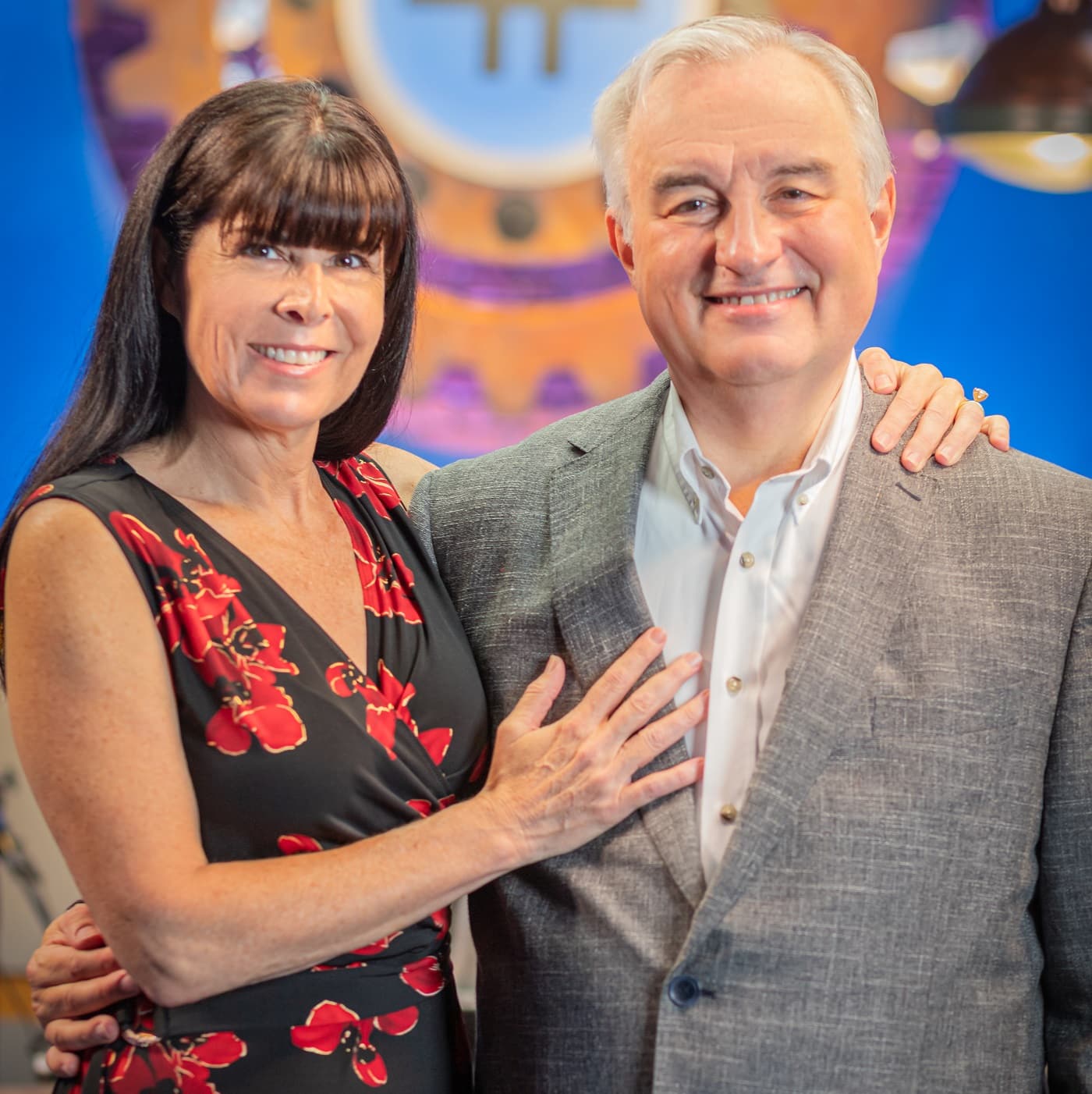 Image: Lisa and Leo Laporte © TWiT.tv
On the note of finances, I ask Leo and Lisa about TWiT's revenue models over time. "I wanted to do a listener-supported podcast but the infrastructure wasn't there," replies Leo. "We put up a PayPal tip jar, but it didn't really generate enough revenue to go very far – apart from, somewhere, there's a wallet with 7.85 Bitcoin! I'll have to figure out to access it!"
The TWiT team reluctantly started running adverts, largely due to a relationship with a man named Mark McCrery, who runs a company called Podtrac. TWiT went "full bore" on the ad-supported concept and for 10 years the approach was successful, but an encounter with Jack Conte, CEO of Patreon and keyboardist in Pomplamoose, changed the direction of the podcast company. Leo recalls: "I'd interviewed Pomplamoose a number of times – they're from just down the road and we love them. When Jack started Patreon, we thought, 'This is a really cool idea' and that started to percolate."
When COVID hit, audience numbers, and advertising revenue tumbled and the team reassessed their options. Lisa – who had become the company CEO – decided to supplement advertising with a membership model and the team agreed with the approach: "I still believe, as I did in the early days, that a listener-supported network is the best way to go," says Leo.
Privacy protection and personal interaction
"Our audience wants privacy," continues Lisa. "Advertisers have become extremely aggressive and invasive and want to know everything about our audience. They want to put tracking pixels all over our website and in our audio feed; we were matching IP addresses with who goes to sponsored pages." But Lisa explains they respect that their audience doesn't want to be tracked: "Our audience was asking, 'Oh my God, what else are you adding?! You're adding Megaphone and Podsights; you're adding all these invasive tracking tools that we don't want to be part of.'"
The TWiT team decided to offer a club that would not only satisfy the privacy concerns of their listeners but actively moves these people from the realm of 'audience' to 'community'. "Whereas my background in traditional media was more about audience, I realized early on that podcasting, a digital medium, was a two-way street," Lisa continues. "We always looked for ways to build our community."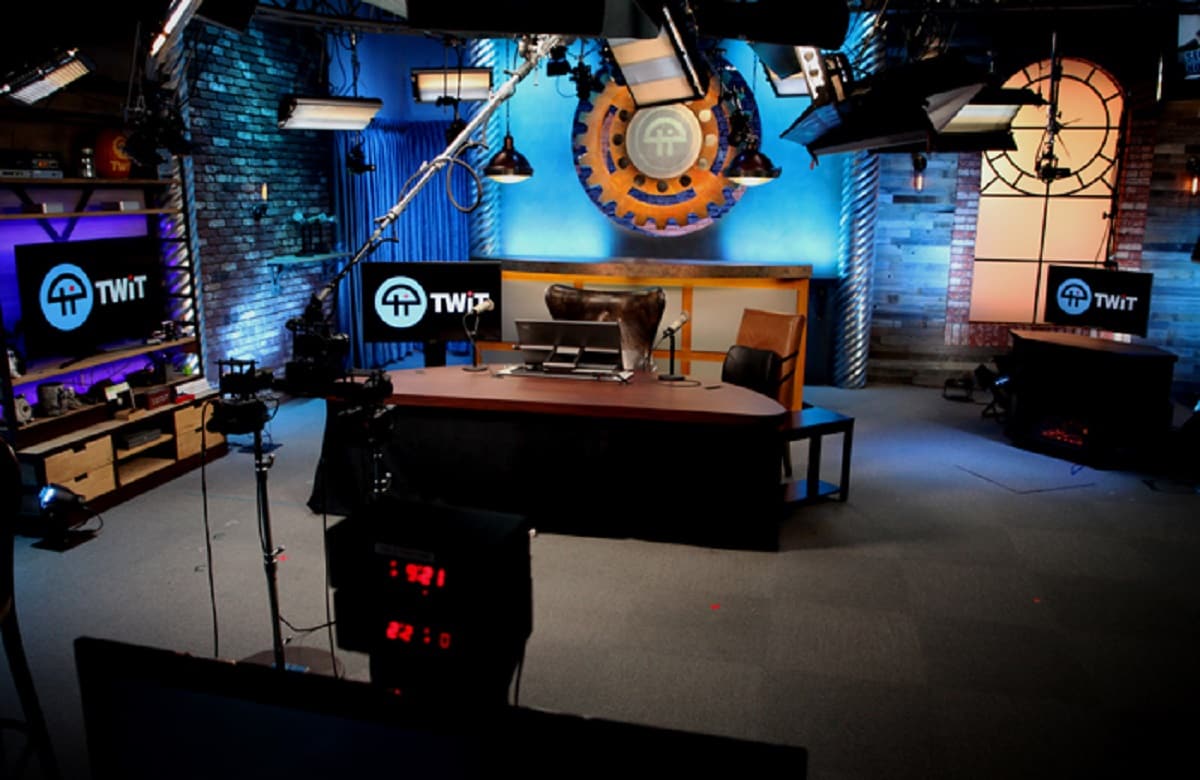 Image: The TWiT studio © TWiT.tv
TWiT had offered forums and a chatroom since day one but it was never a formalized online community. "It was always like, 'Well, whoever shows up!' but I always knew that community was the most important part of what we did," adds Leo. "Podcasting is a friendly medium: it's all about personal interaction."
Lisa agrees that having an engaged community takes podcasting to the next level: "Now people can ask questions and they can participate together. One of the shows we do in Discord is called The Untitled Linux Show. It is as much the people in the community contributing as it is our hosts: it's a two-way conversation and that was always the goal."
The TWiT team is happy they were able to add this sense of community through a membership club. "Them being able to give us seven bucks a month just cements that relationship and makes them a more active and permanent member of our community," concludes Lisa, "It's not just about the money. It's a pact; it's a bond for the future of the company."
Have an audience?
Customers like Mythical (28+ million subscribers) rely on Memberful to power their membership communities.
Get started for free