OT Potential: A good diagnosis
OT Potential changes patients lives through community. Sarah Lyon's blog grew for over five years, but ultimately if she wanted a community of OTs willing to discuss research she had to build it herself through a membership platform.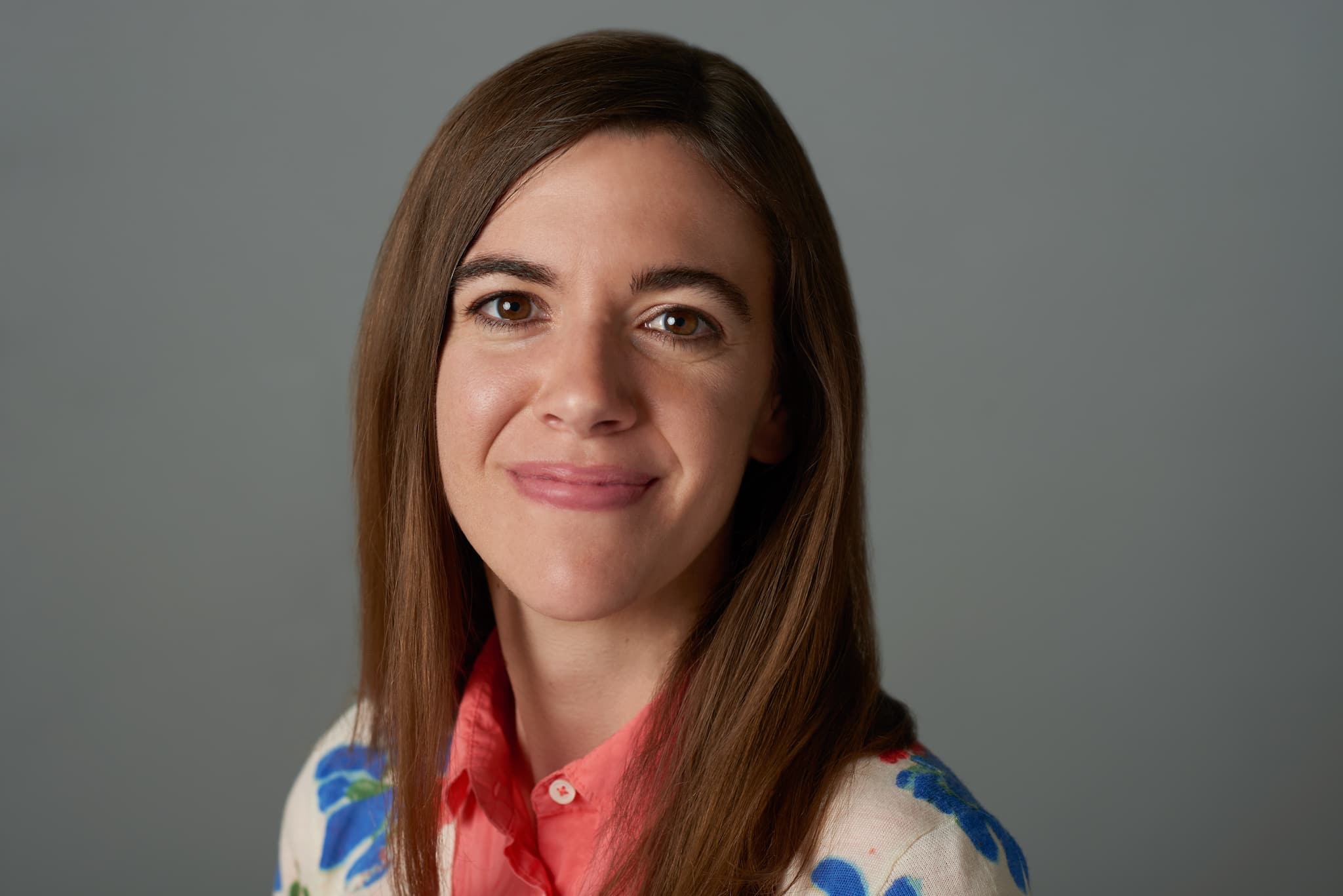 Sarah Lyon received her Masters of Occupational Therapy back in 2011, but soon thereafter decided to leave her Occupational Therapy (OT) community at New York University to move back home to Nebraska to raise her family.
With the move came a job at a small-town hospital and after years of being surrounded by like-minded professionals, Lyon found herself as the only full-time OT on staff. This left her longing for a way to connect with other OTs, learn about what they were doing at their practices, and incorporate their successes into her evaluations and treatments. She searched online but was frustrated when she couldn't find a community of like-minded individuals. "There are OTs all around the nation and globe doing similar work, but there was no real way for us to collaborate," she begins.
The best care possible
What made that lack of community frustrating for Sarah wasn't just her inability to connect, but she knew there were important evidence-based practices that were gaining ground and could make a real difference in the lives of patients. And if she wasn't able to find that information, that meant other OTs were also missing out, especially since one study shared that it takes an estimated 17 years for research to be incorporated into practice.
Sarah wasn't quite sure how to create the community she knew needed to exist. In fact she thought it was "too complex to handle" at the time, so she decided to take a small step first, using her skill set to start a blog on general OT topics. Her blog grew steadily over the course of five years, but ultimately, she felt it lacked the interaction and collaboration she desired. If she wanted a community of OTs willing to discuss research she was going to have to build it herself.
A website diagnosis with good news
Sarah knew the first step to building her new platform was looking at membership platforms. She started researching options but had a hard time finding one with features she wanted: the ability to index researched articles while also facilitating discussion. She explains: "In my head, I thought I was going to have to build something custom, so I was saving the money I was making from doing affiliate sales for therapy companies, like MedBridge, for what I thought was going to be a huge custom build." In 2018 she took the next step and met with a developer who gave her excellent news.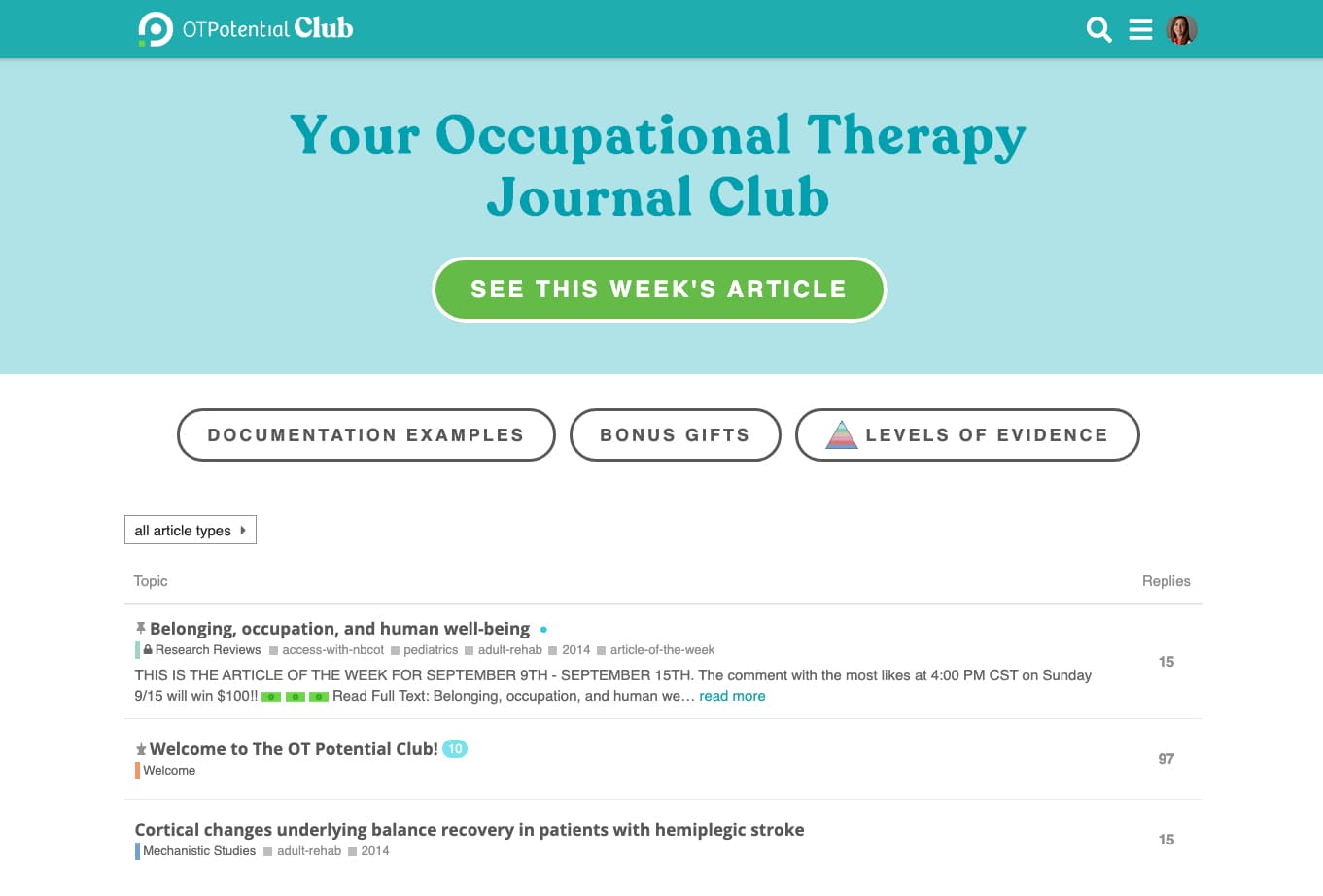 "He did some initial research and said we could just connect Memberful and Discourse together," Sarah says. Discourse makes it easy to create a members-only community forum, a key component in OT Potential's success. "He was able to customize Discourse for what I was looking for, Memberful made the membership management super easy, and then with Intercom on top of that, I was able to have all of the funnels I was hoping for.
"These services made what I thought was going to be a huge project really simple, and we were able to get going really fast, which was awesome because I've been able to spend time testing and iterating versus building something massive and putting it out there and hoping people like it."
"These services made what I thought was going to be a huge project really simple, and we were able to get going really fast, which was awesome."
Sarah had already been growing a substantial mailing list from her blog, so when it was time to start her membership program, she asked that community to join her new paid club: OT Potential, a site she describes as "Reddit mixed with Facebook" and at the heart of which is weekly article reviews, designed to make it easy for OTs to incorporate evidence into their treatments. "What I love about Memberful is that the setup was so easy, it really gave me the time to focus on getting people to join my journal club. We launched in March and we've been growing steadily since."
An engaged and valuable community
One of the biggest factors for OT Potential's growth is how Sarah set up her tiers. She decided to keep membership rates low at just $3 a month or $25 a year for founding members. She knew her club would be in addition to other things OTs have to pay for, like their state license and continuing education units, but she also wanted to reach as many people as possible.
"I intentionally set my price point low hoping that we could get lots of people because having more people makes the community more valuable," she says. It also helps that OT Potential is such a unique offering. "OTs are truly the nicest community ever and it's been a very warm reception because I think they recognize the need for a group that's looking at all of the research that's out there."
It's especially useful for new practitioners, people who are practicing in a new area, or who just may have someone with a diagnosis they haven't seen before. "There are a lot of details involved with our work, so people are able to ask really practical questions, like 'What assessment would you use when working with this new diagnosis I've never seen?' and get answers from other members who are experienced and chime in to help."
Of course, getting those other members to participate and engage is key to the success of the community, and when Sarah launched the club, she knew that aspect might prove difficult. "OTs are really busy, so it felt like a lot to encourage them to read and digest research and give quality comments and feedback. I wanted to make it fun instead of drudgery, and that's how we came up with the idea of giving a $100 prize each week for the most liked comment," she says.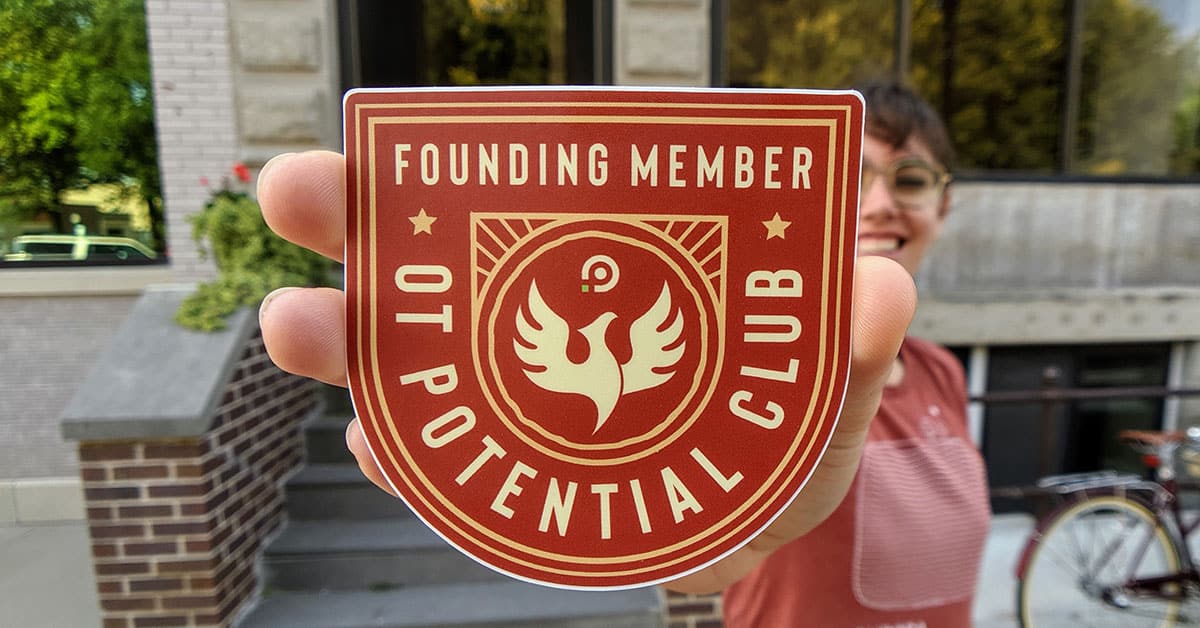 The agility to grow
As the club began to gain traction, it was clear that it needed to keep evolving to meet the needs of members. Memberful made it easy to increase the pricing tiers as the content within the platform expanded. Sarah was also able to easily try out free trials and a referral program to find the right fit for her membership.
The biggest development was the ability to add OT continuing education courses and an OT Directory within the club. "I'm so happy we went with the most agile membership option. I remember looking at options like Mighty Networks, and they simply did not have the customization options I needed to respond to the very specific needs of the OT community," Sarah explains.
Making a real difference
As for what's next, Sarah is focused right now on growing what she's established.
"There's, rightfully so, a lot of pressure on medical professionals to deliver healthcare treatments that have evidence behind them, but the way that evidence gets disseminated isn't perfect. For example, there's really great research coming out right now about rehab and Parkinson's disease and my hope is that every OT that works with someone who has Parkinson's disease is up to date on it because, to me, it should change how we're working with those patients.
"Even though the research is complex and it isn't all perfect, it's important, and hopefully can make a practical difference in a lot of people's lives."
Have an audience?
Customers like Mythical (28+ million subscribers) rely on Memberful to power their membership communities.
Get started for free