Three takeaways from The Air Current's Jon Ostrower
Read about three lessons from CNN editor, Jon Ostrower, turned successful independent journalist. Jon uses Memberful to manage subscriptions. A white-label solution that integrates with his Wordpress membership site and handles all the details.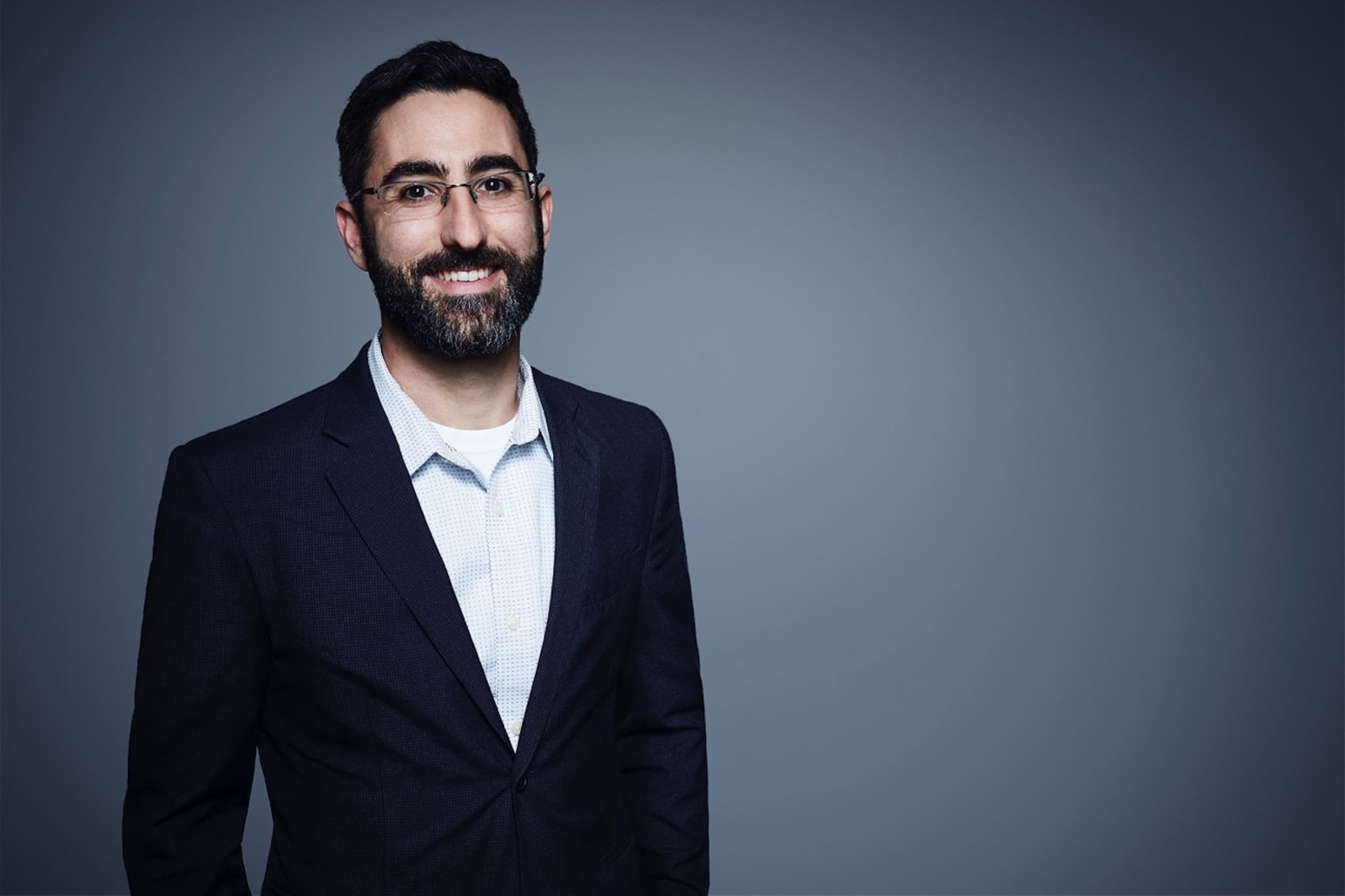 Jon Ostrower never imagined he would become a journalist. But the political communications major ran an aviation blog for fun in the mid-2000s that caught the attention of Flightglobal. They snatched him up to be one of their first digital reporters in 2007. He later joined the Wall Street Journal and then CNN as they each recognized his talent for telling stories, managing sources, and building a loyal readership.
Unfortunately, Jon was impacted by CNN's 2018 budget cuts. He faced a choice: Either he could seek employment with another media company, or he could strike out on his own. He chose the latter.
"I've really been lucky to have experienced different types of media from a lot of different angles in the last 10 years. I was an independent blogger, a trade reporter, a newspaper reporter, and a reporter at a TV network. I have a good sense of the trajectory of media from a multidimensional front… and the one thing I kept coming back to again and again as I made this decision was that intimate relationships with your readers are the only way to generate a product of value if you're starting from scratch and trying to differentiate yourself," Jon explained.
As much as he enjoyed and appreciated his time with large media companies, he felt that going independent was the best way for him to cultivate that relationship with his readers. Now, he's Editor-in-chief of The Air Current, a sustainable business that just rolled out a mirror site in China.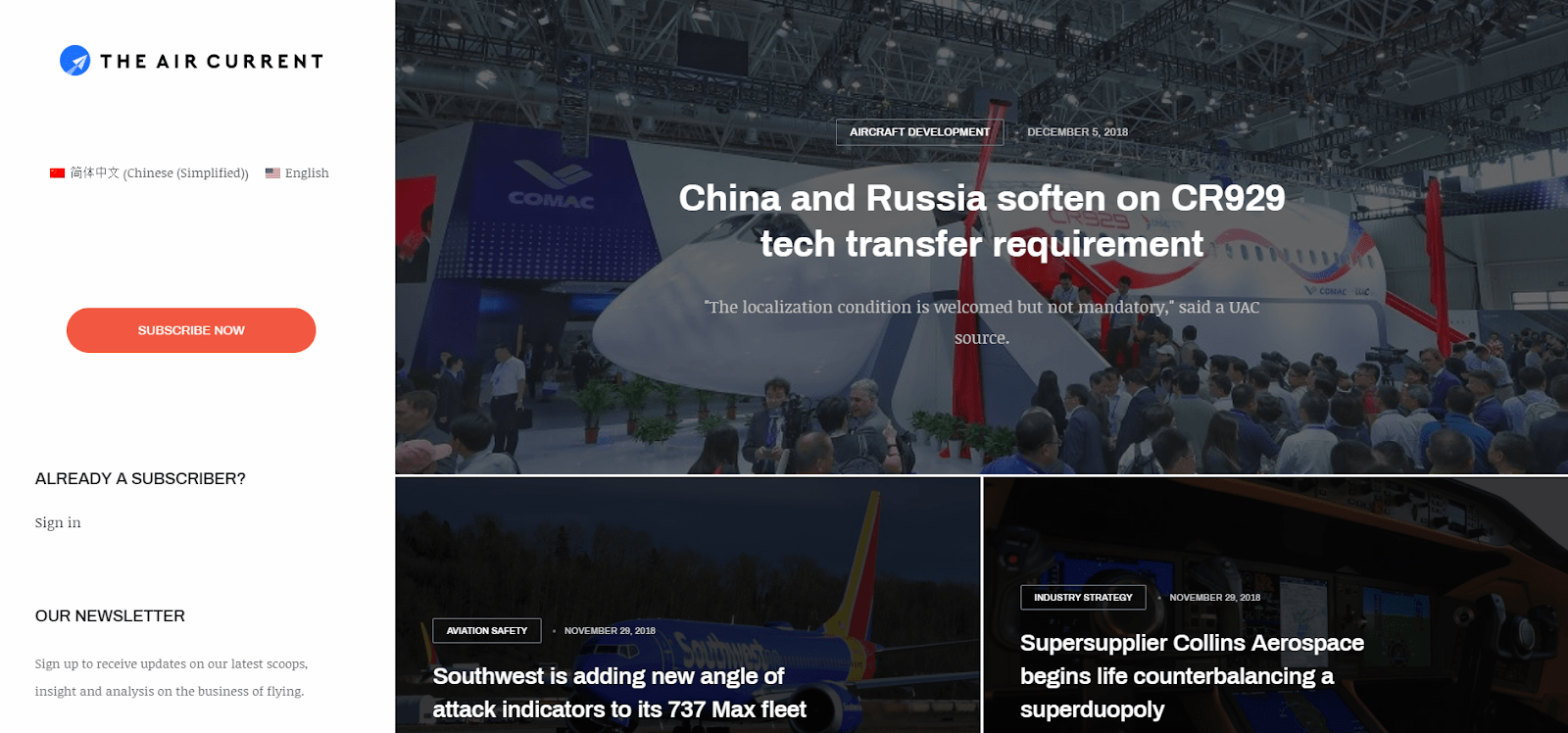 The Air Current is Jon's aviation publication. Only subscribers get full access to articles.
The number one key to his successful rollout, he believes, was his existing audience; had he needed to build a following from scratch, he doesn't believe The Air Current would be viable today. In our conversation, Jon shared three major takeaways from his first six months of independent journalism: know your audience, put content first, and automate business processes. Want to offer membership to your most dedicated followers? Try Memberful.
1. Identify and Engage Your Audience Before Becoming an Independent Journalist
Jon was quick to acknowledge the role his existing readers played in his early success. "I had the biggest, most important part of starting a publication figured out the day I launched: I have an audience. Short of that, I don't think this would have gone as it has," he said.
Because Jon has covered a niche topic — aviation — for many years, he amassed a loyal following of readers who wanted his take regardless of the platform he was on. Before he started his publication, he sat down to figure out exactly which of those readers would care enough to pay for a subscription to The Air Current.
As with most audiences, a majority of his readership isn't willing to take the extra step to purchase his exclusive content. But there are two groups who are willing, and those are the people whose needs and interests he focuses on.
"One is passionate, enthusiastic people who don't necessarily work in aviation or aerospace, but who love being on the cutting edge of aviation reporting and feel that membership is an investment, in the same way that HBO, Netflix, or Hulu is during the course of a year. It's another form of knowledgeable entertainment that cultivates their passion," he said.
"On the other hand are people who work in the business; whether it's folks who are in business development, competitive intelligence, strategy, sales, marketing, or communications, my goal is to be an invaluable resource to them to make sure they're learning something they didn't know before," he added.
To pull them in, he made a simple offer: for $199/yr or $17.99/mo, they would get access to information and analysis they couldn't find anywhere else in aviation news. But for that pitch to work, he had to provide consistent, original, high-quality material to his audience. If he simply rehashed other trending aviation news, no one would pay him for the content he creates.
2. Put Content First and the Rest Will Follow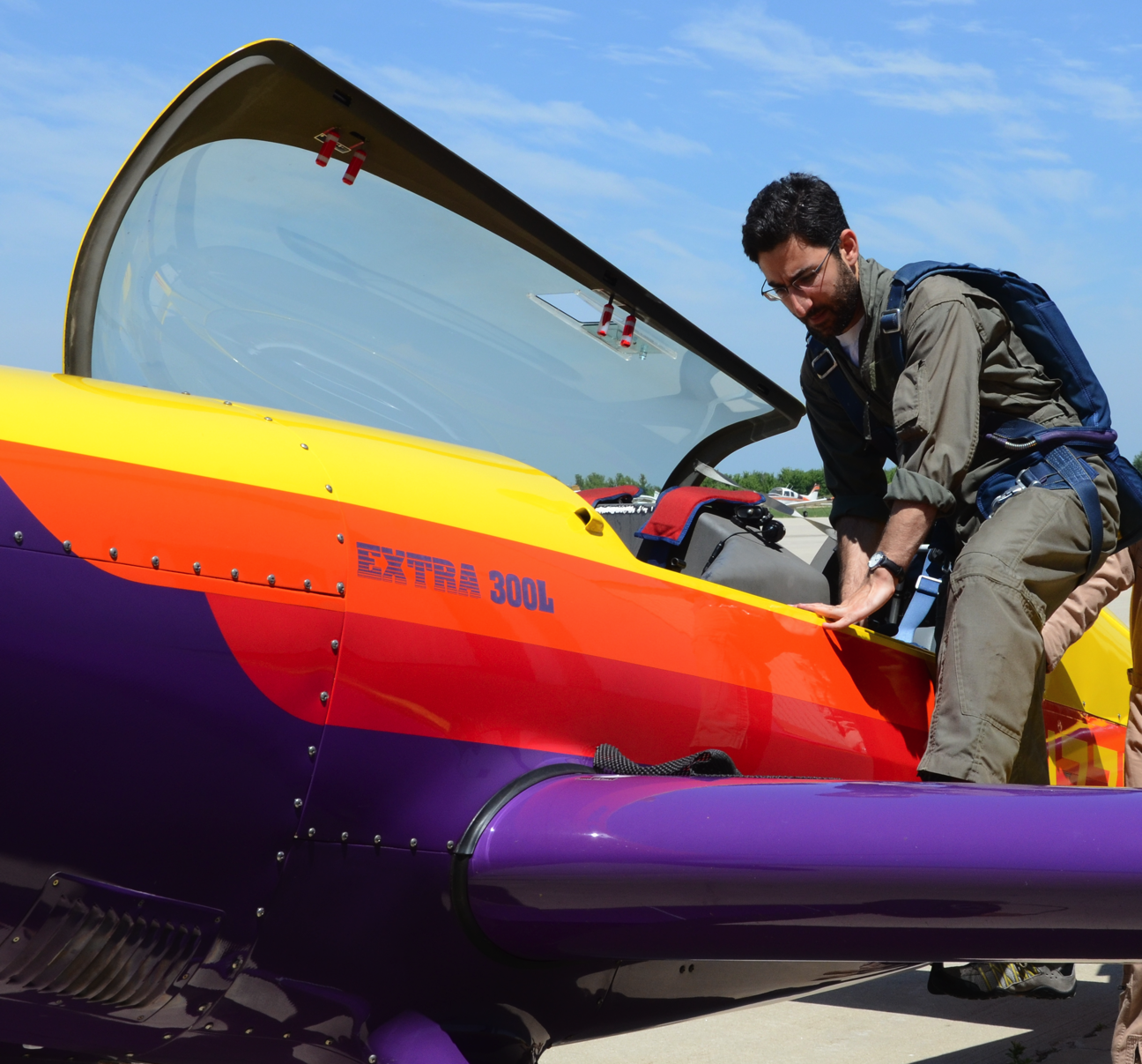 Jon going the extra mile for a story.
Jon's content goal is to make sure his content is always at least "one level deeper" than other content on a topic. It has to be something readers won't see anywhere else. It might be a graphic used to explain a difficult concept, the incorporation of relevant data, or making his content multimedia. But if he can maintain that level of execution, then he has a meaningful call to action for new and existing readers to purchase a membership.
In mainstream digital media, metrics are heavily emphasized; content that performs well is used to guide decision-making. And while Jon isn't going to ignore things like views, he doesn't make metrics the focus of his business. Instead, he focuses on creating the best content he can while ensuring that it's of interest to his target audience. As long as it continues to resonate with them, he believes the metrics will work themselves out.
As for which content gets his attention, it depends on how he can add value to what's in the news cycle. Interestingly enough, that means not obsessing over the other stories currently in the news.
"I try as best as possible not to follow the news on any given day. Yes, I always need to be aware of what's going on. But I try to look beyond that and think about what's coming next. I'd rather follow the climate than the weather on any given day. You look at the long-term trajectory of something and say, 'Okay, I know that people are going to want to read about Y because X is happening.' I'm also thinking about content that is evergreen so I can come back to it and reshare it," Jon said.
Making those decisions is challenging, but it's also part of why he enjoys being an independent journalist.
"Setting my own priorities has been huge. I'm such a geek and I'm completely unapologetic about it. And sometimes that geekiness hits mainstream news priorities, and it doesn't always mesh well. But being on my own, I can go to 11 if I want, because my audience loves it, they're receptive to it, and they speak the same language," he said.
"Setting my own editorial priorities is the best part," he continued, "because it allows me to wander off in directions that no one else is going, and it lets me explore trends that no one else is looking into. Because if someone else is doing it, why would I do it?"
That freedom allows him to offer the unique, insightful perspectives that drive membership in his publication.
3. Use Technology to Automate Basic Business Needs
Focusing on the quality of his content means Jon doesn't have a lot of leftover time for all the other aspects of running a journalism business. Add his newborn into the mix, and Jon is maxed out. "I am stretched to oblivion. You can probably tell I haven't slept in two months," he laughed. He relies on technology to keep his business running in the background so he can focus on producing stellar content. Here are a few of his most important tools.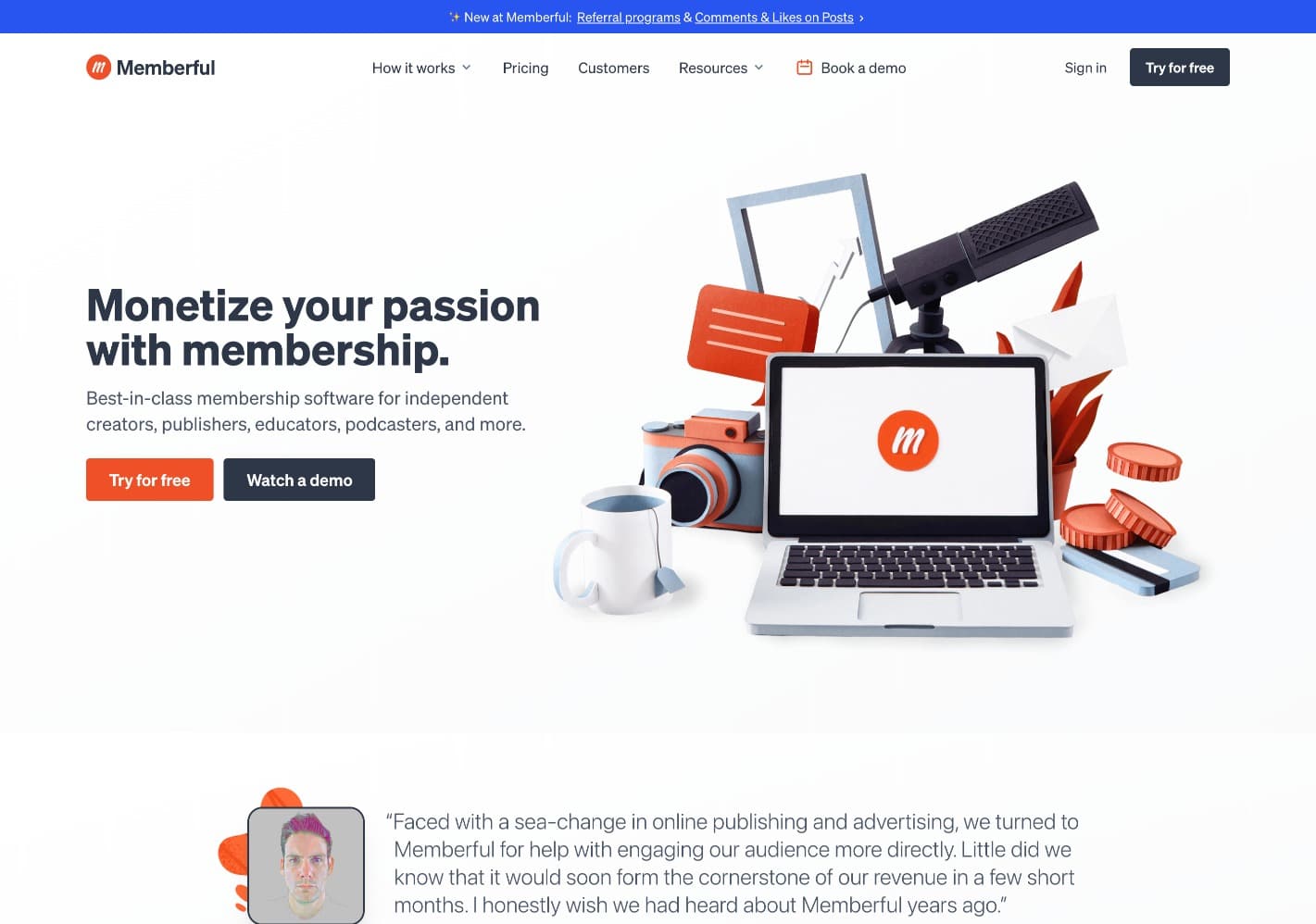 Jon uses Memberful to manage subscriptions. It's a white-label solution that integrates with his Wordpress website, so his readers only ever see Jon's brand. His readers can manage their own membership status, and the platform handles all payment transactions. "It's set-it-and-forget-it, you know?" he sighed. "I don't want to think about those details, and Memberful allows me not to think about it." Once his viewers sign up, they're automatically plugged into his gated content and added to his email list so they can keep up with breaking news.
Mailchimp

To update his subscribers, Jon uses Mailchimp. Integrating it with Memberful and Wordpress only took a few minutes. He uses a template with drag-and-drop Mailchimp tools to send out email blasts whenever he's ready to update his readers on the latest story.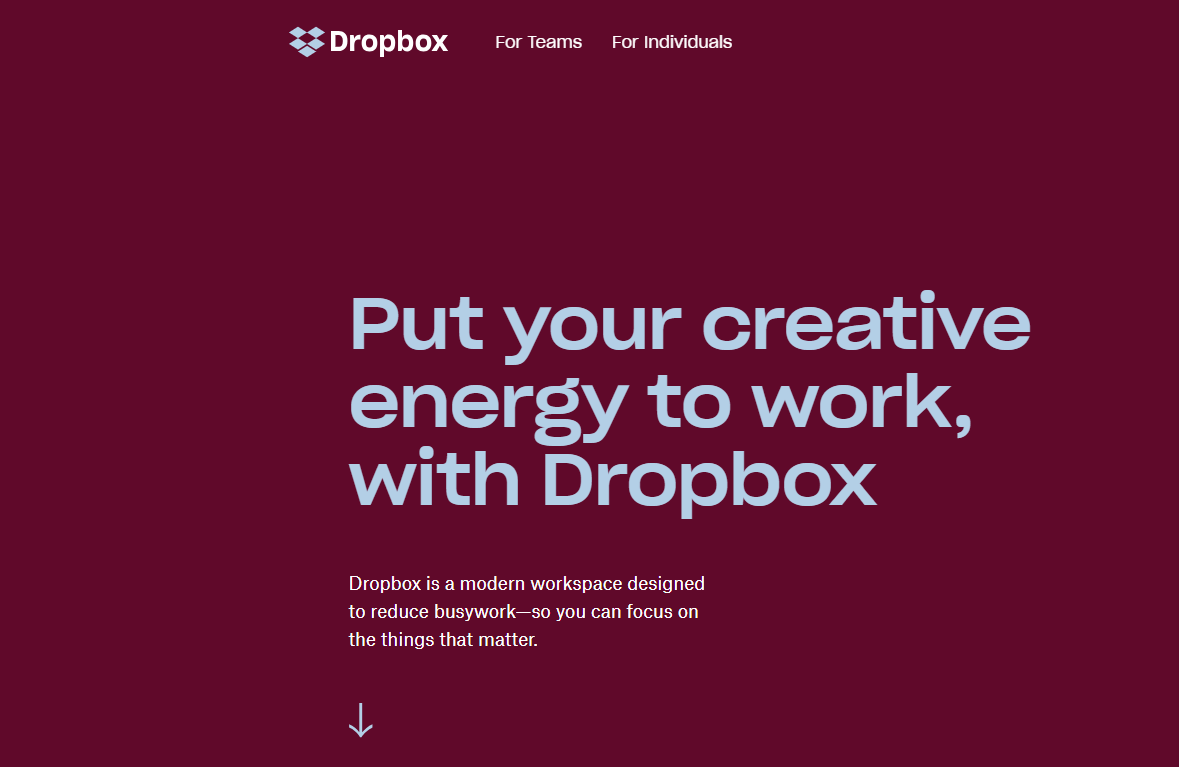 Access to his documents wherever he goes is key to getting stories done in time. He uses Dropbox to sync files with all his devices. The last thing he wants to spend time on is making sure he has all the files he needs. "It's huge for me," he said.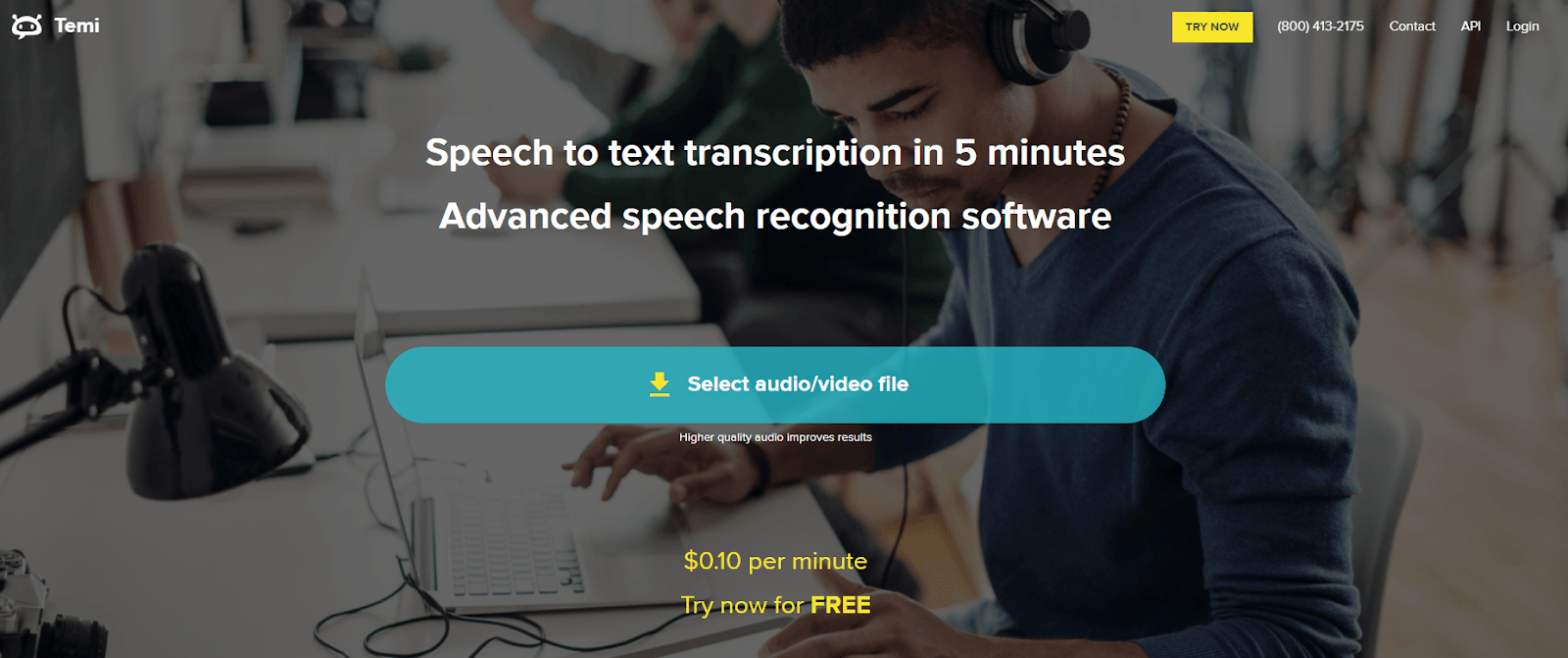 With all of the content he produces, there's no way Jon would have time to create transcriptions of interviews by hand. Instead, he uses Temi, an automatic transcription service. While the transcriptions aren't perfect, they give him the information he needs to flag quotes and ideas he wants to include in his content.
Moving Forward, One Step at a Time
"The journey of a thousand miles begins with a single step," Jon said, citing a Chinese proverb as he reflected on the progress he's made over the last six months. In addition to founding a viable publication, Jon has overseen the launch of a mirror site in China, where there is a significant audience for aviation news. He's already considering if, and how, he would like to bring on additional help with the site.
And now that he's out of the woods, other journalists are calling him to talk about whether they should become independent also. They all have the same fear: that once they lose the three-letter media affiliation from their email signature, they won't command the same respect and attention from sources and readers alike.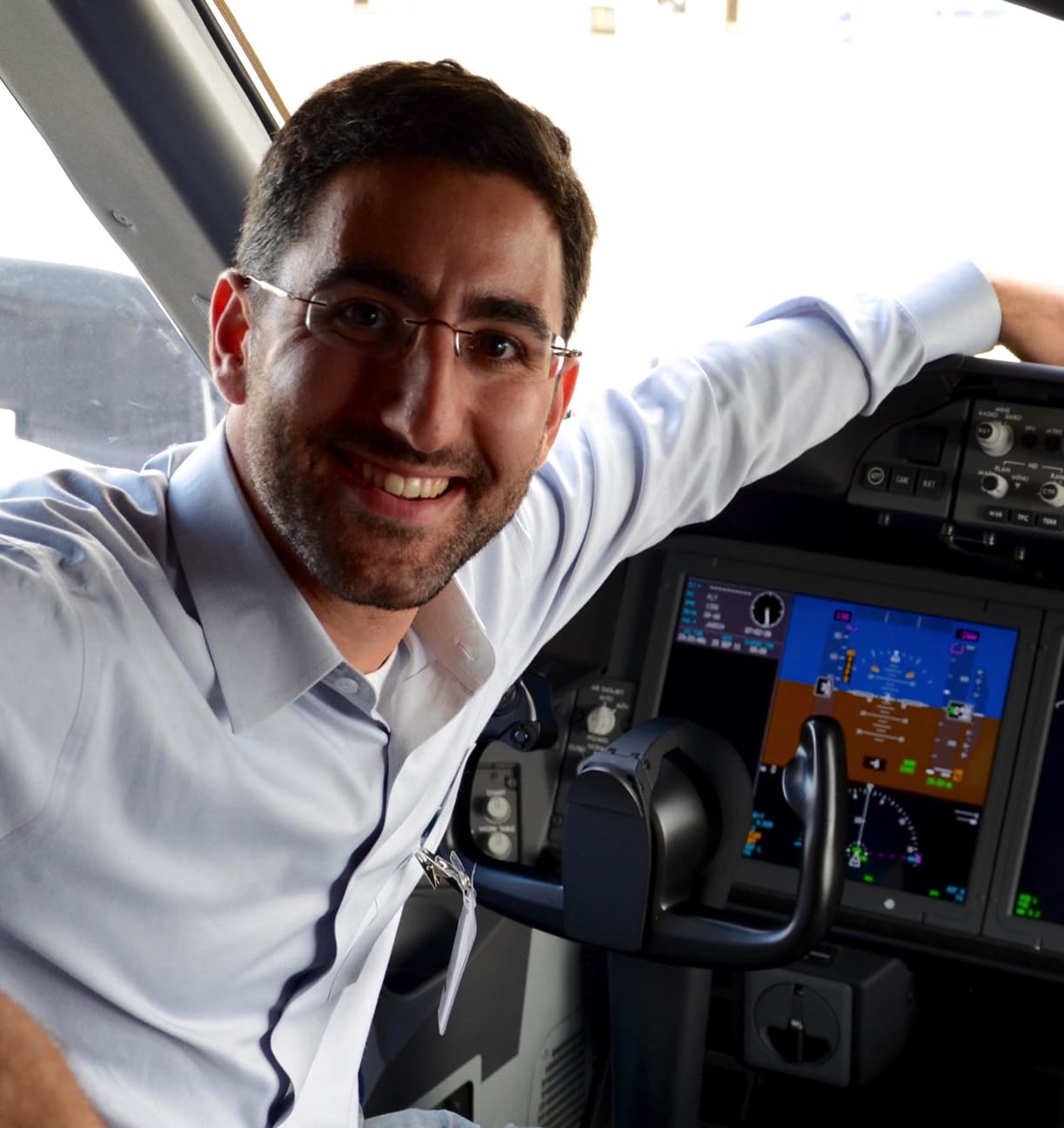 Jon's response? First off, he said, "Don't measure yourself by the organization you're in; measure yourself by how and what you contribute to that organization. Be confident in what you know and who you know and in the network you have cultivated."
Next, he asks other journalists to consider their best and worst case scenarios. In the best case scenario, "You create a phenomenal, sustainable media business and you're growing and making money and doing great work," he said.
But failure isn't his worst case scenario. If you fail, you pick yourself up and go work somewhere else. Instead, the worst case scenario he imagines is something in between: a media business that doesn't completely fail, but doesn't really succeed either. Being stuck where you aren't satisfied and you're just plodding along, hoping things get better — that's his worst-case scenario.
"Obviously, finances and your ability to pay for your life is obviously a key component of that decision. But at the end of the day, you don't want to have any regrets. If it's really something you want to do, putting yourself out there is hard, and it's not easy, but damn, it's worth it," he emphasized.
He speaks as someone who loves the new schedule, even though he's low on sleep at times. "When I was with a mainstream organization, my days were at the mercy of the news cycle. Now, if I want to stay up until 3:00 a.m. reading a report about Chinese aerospace development and automation, I can do that. And if it's totally in the weeds and academic, I don't have to figure out a way to sell it to a mainstream audience tomorrow. I can figure out a way to work it into what I do." It's that freedom to choose his own priorities on his own time frame — and know that he'll have an appreciative readership when he's ready to publish — that makes Jon so enthusiastic about being an independent journalist.
Have an audience?
Customers like Mythical (28+ million subscribers) rely on Memberful to power their membership communities.
Get started for free