Manage group subscriptions
Group plans are Plans that contain multiple memberships purchased and managed by a single account called a group manager. Group managers can manage their group subscription settings and their group members from their member account.
Learn how a member can:
Manage a group subscription
From the Subscriptions tab in their account, the group subscription manager can click the Manage members action to add members, remove members, and purchase additional member seats. They can also access the Manage members page through this direct link:
http://YOURSITE.memberful.com/account/plan_manager/team_subscriptions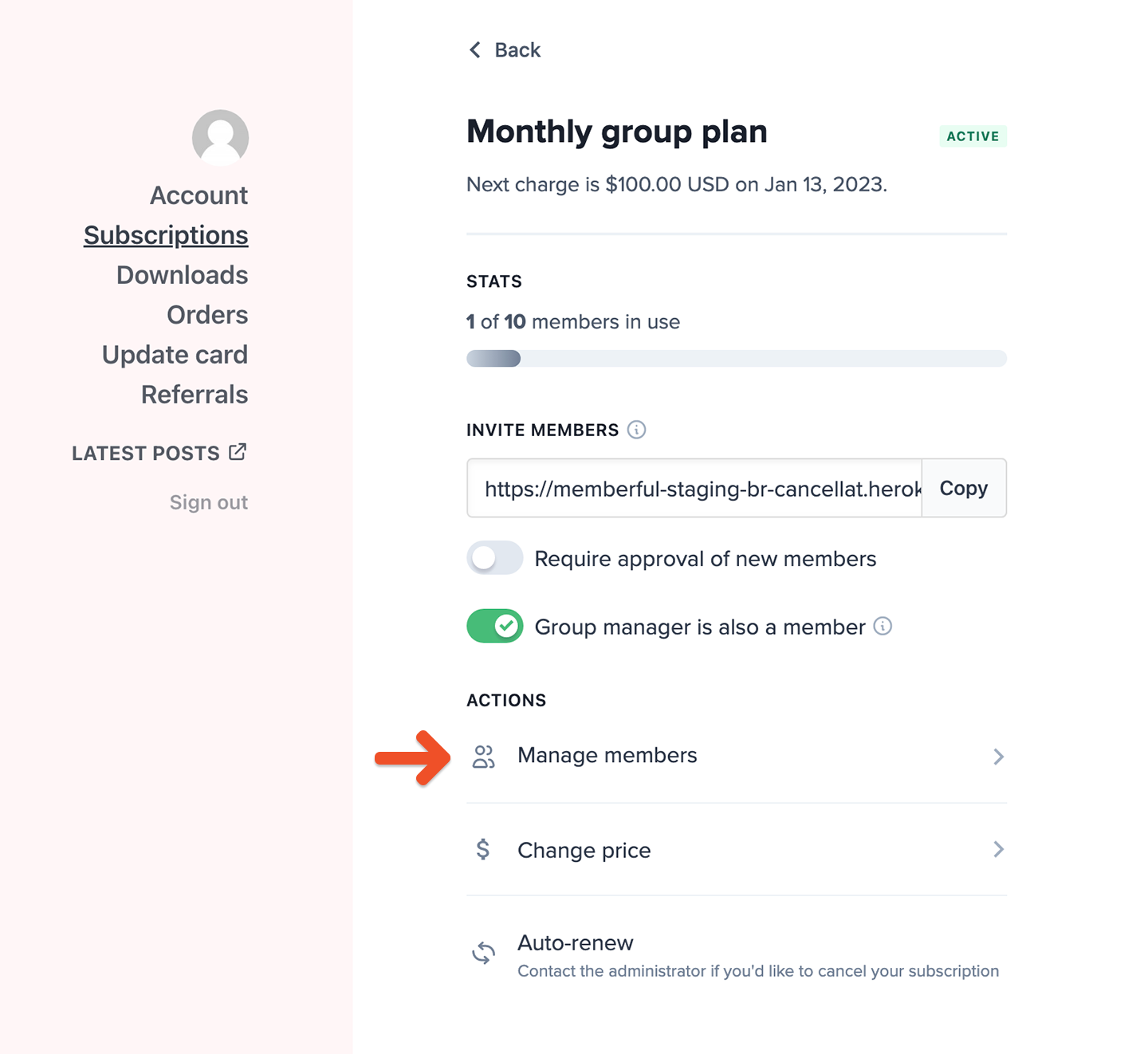 They also have access to a unique link they can send to people to directly join the group subscription, and the option to require the group subscription manager's approval before new members can join the subscription.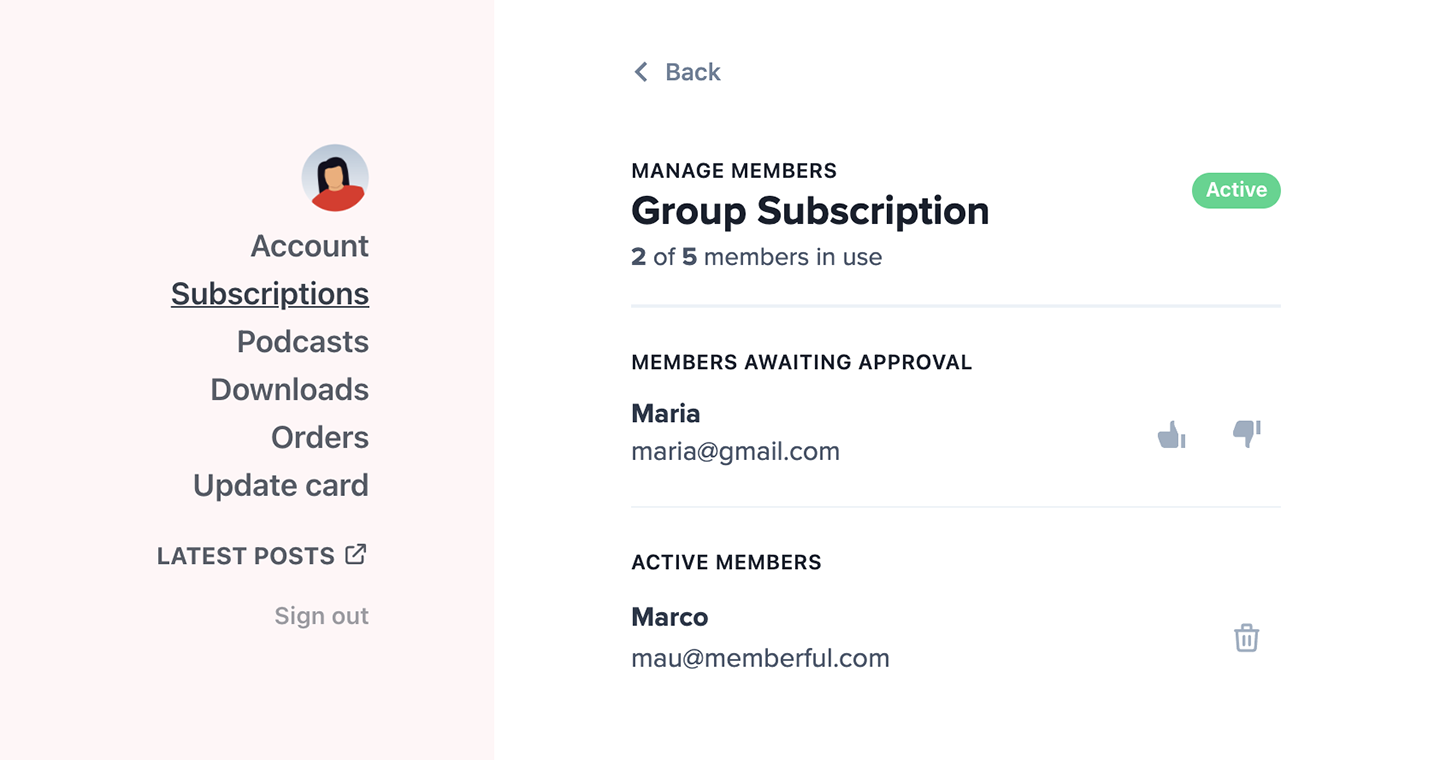 For group subscriptions with more than 10 members, we switch to a search bar, rather than a list of members, for ease of use.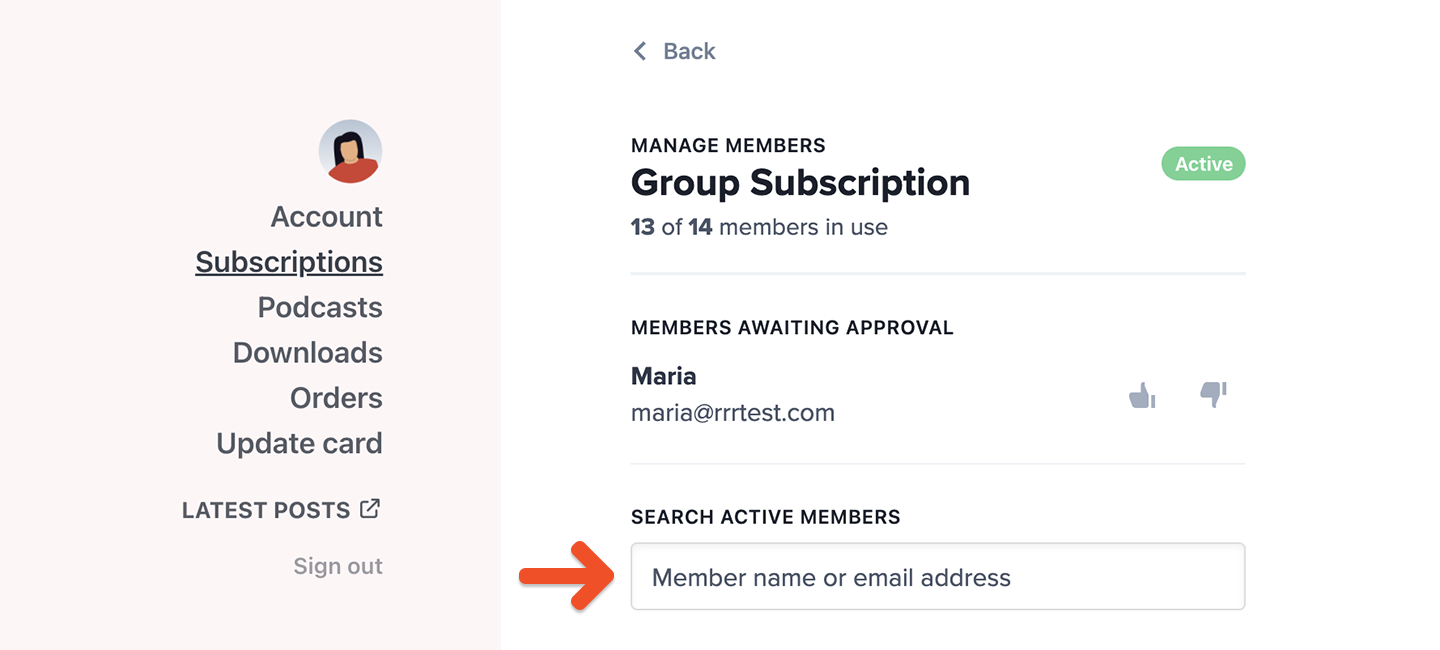 Group members can also voluntarily leave a group via the Subscriptions tab in their account. The seat will return to the group subscription manager's total available member seats.
Exclude the group manager from the seat count
Group managers take up a seat in a group subscription, and receive member benefits, by default. However, they have the choice to be excluded from the seat count, and keep their involvement to just billing and member management. Both you, as a site admin, and the group subscription manager, can access this setting.
Learn how you can access this setting from the dashboard.
To exclude themselves from the seat count, group subscription managers can navigate to the Subscriptions menu item in their account and toggle off the Group manager is also a member setting.
This will automatically free up a seat in the subscription and prevent them from receiving member benefits (newsletters, Discord access, gated content, etc.).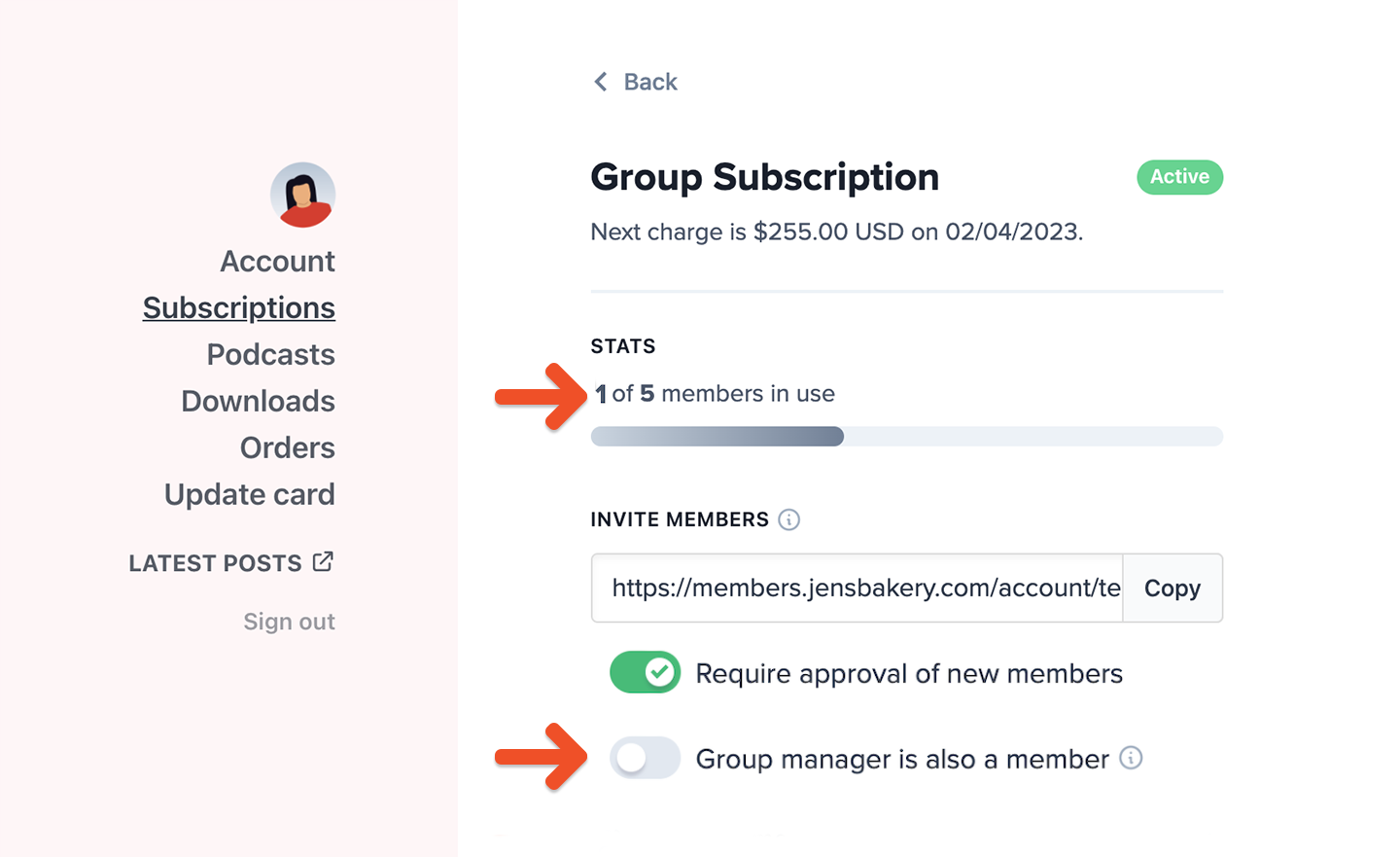 If all available seats are taken and the Group subscription manager is also a member setting is toggled off, the group subscription manager will not be able to switch it on, and will get an error message instead.

In this case, the group subscription manager would need to either buy an additional member seat or remove one member from the group to become a member again.
Purchase additional member seats
You can allow the group subscription manager to purchase additional member seats for their group—as long as there are no scheduled plan changes. They can access the purchase form link via the Manage members tab in their account.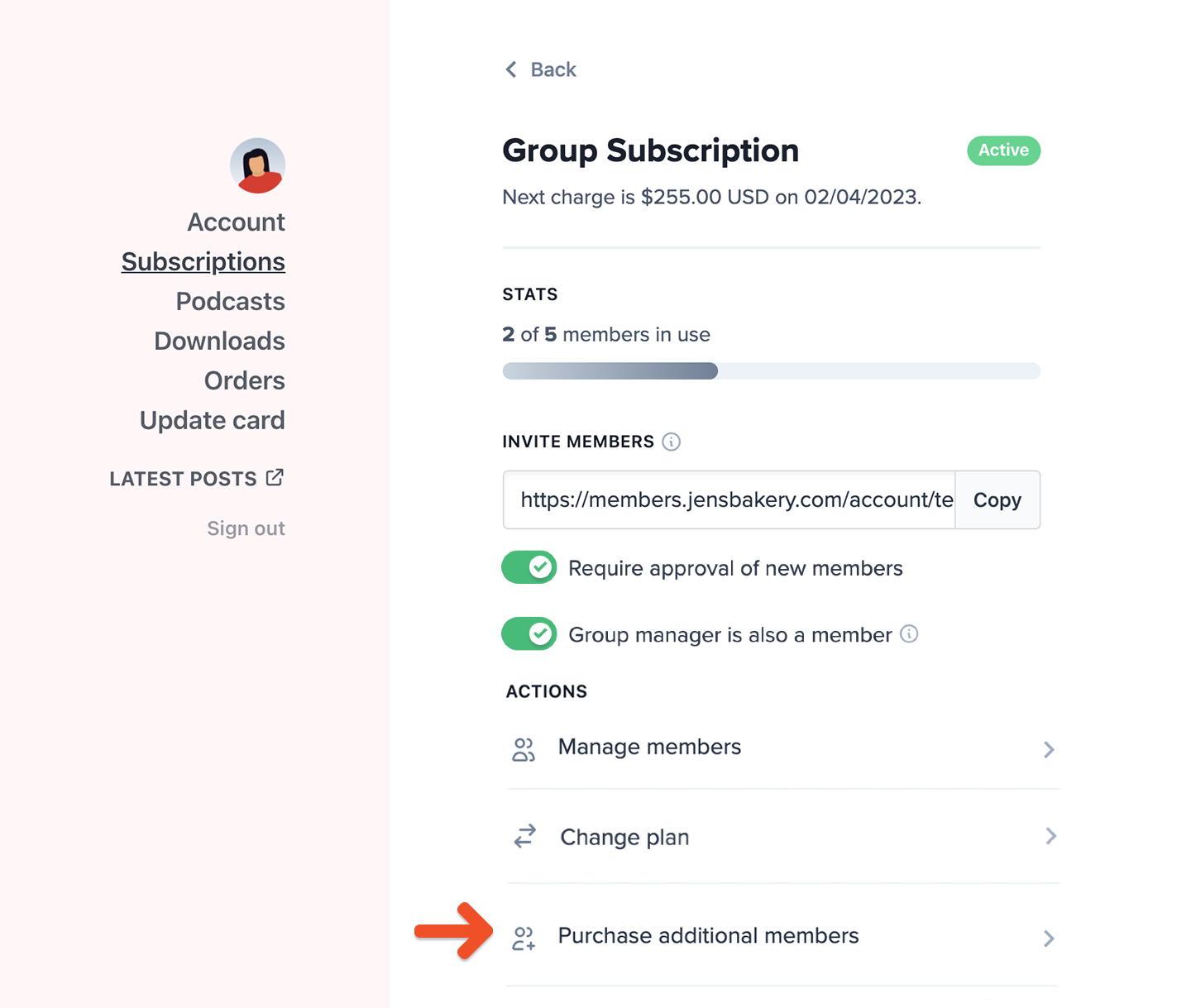 To allow additional member seat purchases, you must set a per-member price. Depending on when the group subscription manager purchases the additional member seats, the total charge will be pro-rated based on how much time is left before the next renewal date for the subscription. Then, on the next renewal date, the full seat price will be added to the total renewal price.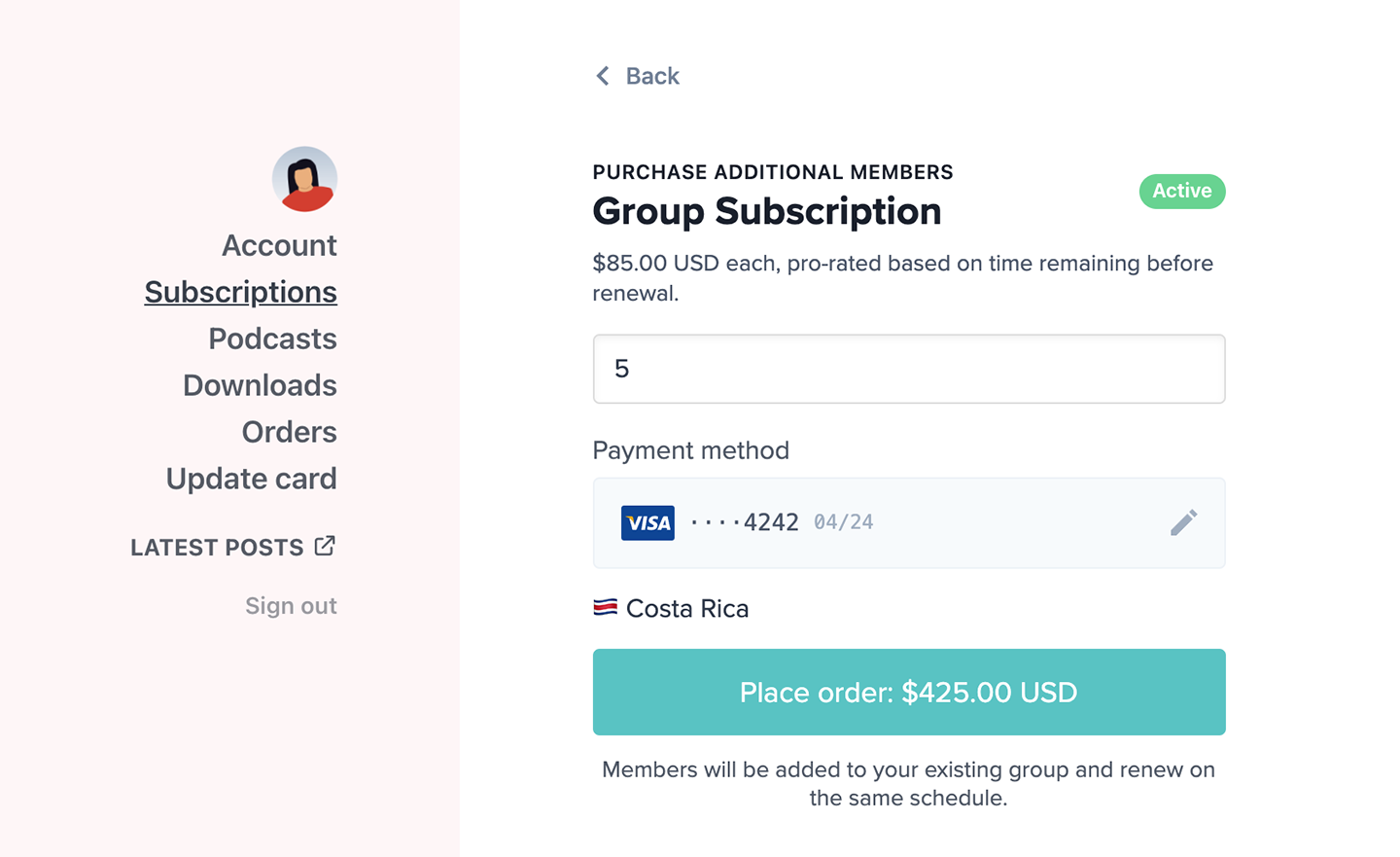 Related help docs:
Can't find what you're looking for? We'd love to help! 💪
Send us a message through the orange chat bubble in the lower right corner of the page. You'll hear back within a few hours Monday - Friday. 😀