Accept external payments
Group plans are Plans that contain multiple memberships purchased and managed by a single account. They are a great solution for companies, groups, or schools that have a single point of contact but are purchasing access for multiple people.
You may have a large group that requests to pay for their subscription through external means (wire transfer, paper cheque, etc.) instead of using a credit card via the Memberful purchase form. In these cases, you can mark the group subscription as having been paid externally.
If the subscription is paid externally, Memberful will not attempt to charge a credit card when the renewal date comes. Instead, you must manually record individual payments to renew the subscription, add member seats, etc. Each external payment will be available as a regular activity item and included alongside all of your other metrics.
In this help doc:
Add an external payment
If the group subscription manager doesn't already exist, add them as a new member, and then add the new subscription to their profile.

From the subscription view, first enable external payments.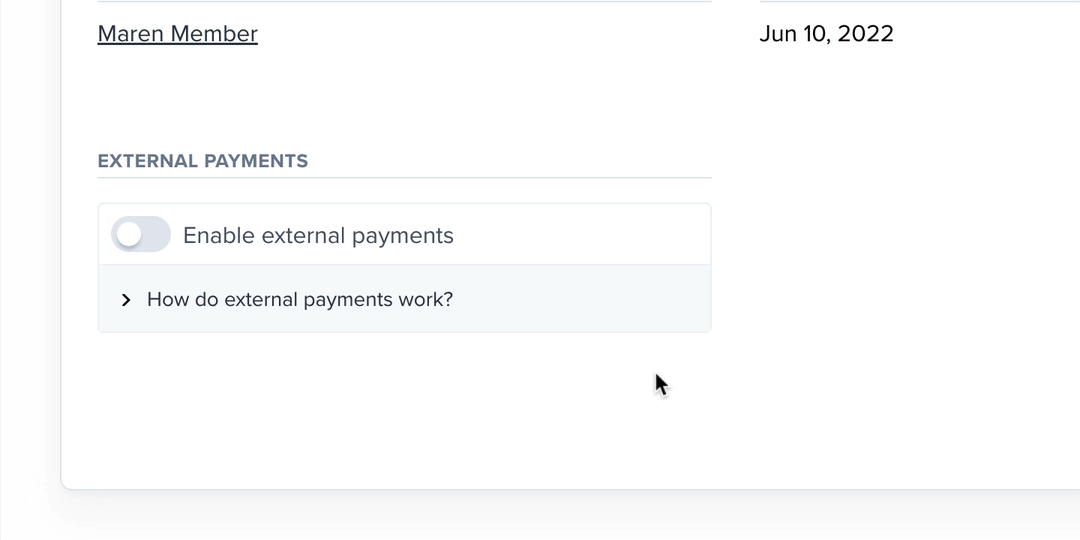 Once the payment is received, click Add external payment and indicate if the subscription should be renewed or not.

You can also add an optional note along with each payment to indicate what it was for or to associate it with an external invoicing ID number.
Add additional members
Group subscription managers that pay for group subscriptions externally must contact you directly to add more member seats to their group subscription.
Once you arrange payment, navigate to the group subscription manager's profile in the Memberful dashboard and click the subscription link. From there you can adjust the number of additional member seats available to their group. This is the number of members included with their subscription in addition to the base number of member seats included with the plan.

Do not add additional member seats via the Memberful dashboard to subscriptions that are not paid externally since they won't be charged until the next renewal. The group subscription manager should buy additional member seats via their account so the charge will be pro-rated.
Enable email notifications
When externally paid subscriptions renew, the member's access will be maintained even though the subscription is marked as past due. Memberful will send you an email 30 days before an externally paid subscription is set to renew and the day after the renewal date if it becomes past due. You can turn these notification emails on or off via the Account tab in your Memberful dashboard.
External payments that you record within Memberful are not subject to any transaction fee. However, there is a $0.20 monthly fee for each externally paid seat that is in use.
End a subscription that was paid externally
To end a subscription that was paid externally, navigate to the group subscription manager's account, and disable external payments as well as auto-renew. Doing this will allow the subscription to expire on the renewal date.
Related help docs:
Can't find what you're looking for? We'd love to help! 💪
Send us a message through the orange chat bubble in the lower right corner of the page. You'll hear back within a few hours Monday - Friday. 😀